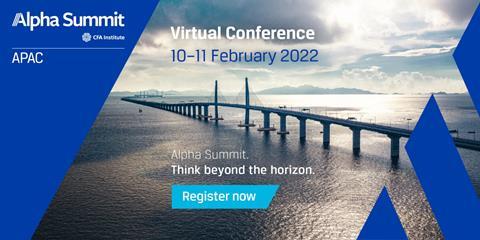 Date: 10 - 11 February 2022
Time: 12:00 - 16:30 HKT
To help investors in APAC think beyond the horizon, CFA Institute's Alpha Summit APAC offers two days of dedicated content, focusing on the investment industry's biggest challenges and most compelling trends across the APAC region — from shareholder activism and advances in fintech to sustainable investment strategy and capital allocation—all with a focus on giving you the investment tools and best practices you need to succeed.
Unique access to industry luminaries and thought leaders will provide insights on five main themes—the Post-Pandemic World, Sustainable Investing, Innovation and Technology, Capital Markets and Advancements for the Investment Management Professional. Through dynamic discussions and presentations, this virtual conference– with complimentary access for investment professionals around the world –will connect you with the knowledge and new ideas you need for innovative client solutions.
Please visit the website for more information and to view the full agenda.
Session highlight:
Keynote and Fireside Chat: SDG Investing | 10 February 2022, 15:45 – 16:30 HKT
Shelagh Whitely, Chief Sustainability Officer, PRI
As investment managers respond to increased expectations from clients to align with PRI Sustainable Development Goals (SDGs), fundamental questions still need to be addressed. From establishing frameworks that achieve PRI Sustainable Development Goals to defining, measuring and integrating social factors in valuation analysis, best practices are still evolving. How can investors increase the positive outcomes and decrease the negative outcomes arising from their actions, and what considerations should guide the adaptation of investment processes?