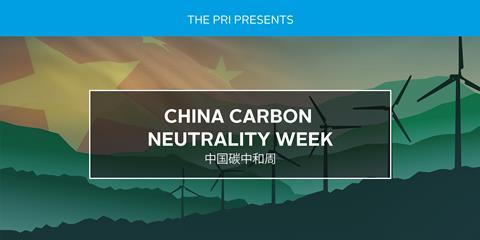 Date: 27 - 29 April 2021
Time: 15:00 - 17:00 Beijing | 8:00 - 10:00 London
Platform: Zoom
The PRI invite you to the China Carbon Neutrality Week, where we will discuss the policy and regulatory developments and responsible investment practices needed to achieve carbon neutrality in China.
This conference is intended for investors, regulators, policymakers, and industry stakeholders interested in learning about policy reforms to achieve carbon neutrality in China, as well as investment practices needed to support it, including transition strategies, risk management, disclosure and stewardship.
Since President Xi Jinping announced at the UN General Assembly in September 2020 that China will target carbon neutrality by 2060, low-carbon transition has become the central feature of China's planning and development strategy. Investors are increasingly both supportive of policy action to reach net zero and ready to collaborate with policymakers to design and implement policies that drive responsible capital into the green economy. In this context, it is important for all stakeholders to identify and develop the policies and responsible investment practices needed to make it happen.
This conference will be held with Chinese and English simultaneous interpretation.
The PRI would like to thank Green Finance Committee of the China Society for Finance and Banking (GFC) for co-hosting this event
Agenda*
Day 1: Financing the Road to Net Zero
Time: Beijing
Session

15:00

Welcome from PRI

Luo Nan, Head of China, PRI

15:05

Opening Remarks

15:15

What are the Transition Pathways and How Much Investment is Needed?

Mark Carney, UN Special Envoy for Climate Action and Finance and the UK Prime Minister's Finance Adviser for COP26
Yi Gang, Governor, People's Bank of China (TBC)

15:35

PRI Climate Policy Briefing: Delivering Carbon Neutrality in China

Martin Skancke, Board Chair, PRI

15:45

Policy Reforms for Climate Neutrality by 2060
In this session we will discuss the policy reforms needed to guide key economic sectors (power, industry, transportation, buildings) to carbon neutrality by 2060. The speakers will discuss the recommendations proposed by the PRI climate policy roadmap and the necessary short-term actions to reorient investments towards a sustainable and inclusive net zero trajectory.

Ding Hui, Division Director, Department of Climate Change, Ministry of Ecology and Environment
Chen Chao, Director, CIC Research Institute
Professor Xiliang Zhang, Director of the Institute of Energy, Environment and Economics, Tsinghua University
Junfeng Li, Former Director of National Centre for Strategic Research and Institutional Cooperation on Climate Change, Executive Director of China Energy Research Society
Hong Liang, Director of Industry and Innovation Research, Hill House Capital
Moderator: Margarita Pirovska, Director of Policy, PRI
*agenda subject to change