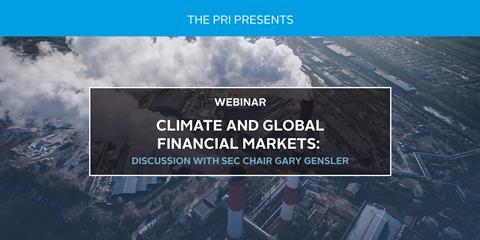 Date: Wednesday, 28 July 2021
Time: 10:30 - 11:15 ET | 15:30 - 16:15 BST
Platform: BrightTALK
Securities and Exchange Commission (SEC) Chair, Gary Gensler will discuss climate and its impact on global financial markets as part of the SEC's 2021 Regulatory Agenda. In light of demand for climate change information and questions about whether current disclosures adequately inform investors, the SEC recently requested public input on climate change disclosure. The Chair will answer questions from the audience during the webinar. Please submit any questions in advance via email at colleen.orr@unpri.org.
Confirmed speakers:
Introduction by: Fiona Reynolds, CEO, PRI
Keynote: Gary Gensler, Chair, U.S. Securities and Exchange Commission
Margarita Pirovska, Director of Policy, PRI
Sagarika Chatterjee, Director of Climate Change, PRI