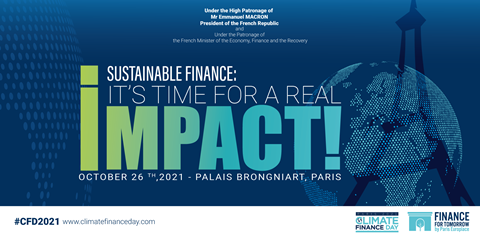 Date: 26th October 2021
Time: 09:00 - 18:00 CEST
Finance for Tomorrow's flagship event since COP21, the Climate Finance Day is a major annual event that has undertaken to mobilise the world's financial industry to make further commitments to combat climate change. The Climate Finance Day is the "catalyst of commitments" of financial actors in favor of the climate and in terms of sustainable finance globally. The 7th edition will be dedicated to "Sustainable finance: it's time for a real impact". Join this event to explore how impact finance will provide the tools for a significant shift towards a better future.
For more information please contact: registration@climatefinanceday.com
Organiser
Finance Tomorrow | registration@climatefinanceday.com