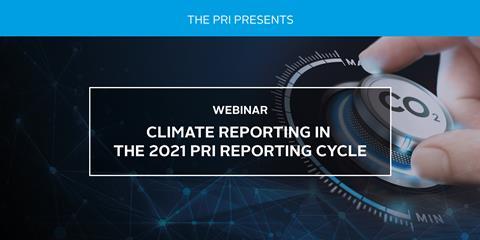 Date: Monday, 8 February 2021
Time: 14:00 - 15:00 GMT
Platform: BrightTALK
In 2018, as part of the PRI's programme on championing climate action, we introduced voluntary climate change indicators in the PRI Reporting Framework, based on the recommendations of the Taskforce on Climate-related Financial Disclosure (TCFD). Since the 2020 reporting cycle, signatories have been required to report on the climate change indicators on a mandatory basis. In 2021, the indicators related to the strategy and governance recommendations will also be publicly disclosed and part of private assessment, while some 'plus' questions based on the TCFD recommendations around risk management and metrics and targets will remain voluntary and non-assessed, with a view to making them 'core' in 2022. In this webinar, we will take signatories through the main changes to the PRI reporting requirements on the TCFD-based indicators and how the recommendations can be implemented by signatories on a more practical basis.
Speakers include:
Kimberly Gladman Senior Associate, Climate Change, PRI

Irene Diaz, Associate, Reporting and Assessment, PRI