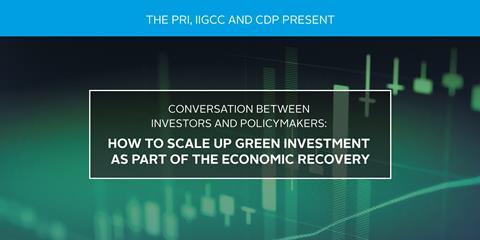 Date: Tuesday, 20 April 2021
Time: 13:00 - 14:30 BST | 14:00 - 15:30 CEST
Platform: Zoom
We invite PRI, CDP, IIGCC members to attend an online event on Tuesday 20th April that will provide a conversation between investors and policymakers on how to scale up green investment as part of the economic recovery. This event is organised by PRI, IIGCC and CDP, collaborating as part of The Investor Agenda.
The event will feature a keynote presentation from the European Commission, setting out the main components of the EU's economic recovery package and how these link to the European Green Deal, with comments from investors and time for Q&A.
The conversation provides the opportunity to hear from the European Commission regarding the latest status of the negotiations, and highlight key asks from investors for the EU's economic recovery.
If you are a PRI, CDP or IIGCC member, please register your interest below.
Speakers include:
Emelia Holdaway, Policy Director, IIGCC
Elia Trippel, Policy Expert, European Commission
Murray Birt, Senior ESG Strategist, DWS
Thomas Liecsh, Climate Integration, Allianz SE
Mirjam Wolfrum, Director Policy Engagement, CDP Europe
Mona Freundt, Policy Engagement Manager, CDP Europe
Elise Attal, Head of EU Policy, PRI