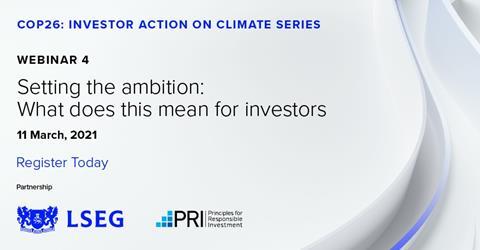 Date: Thursday, 11 March 2021
Time: 14:30 - 16:30 GMT | 9:30 - 11:30 EDT
Platform: BrightTALK
With the success of the 2020 series, The PRI and London Stock Exchange Group will be hosting three virtual events throughout 2021 leading up to COP26, which will take place 1-12 November in Glasgow, Scotland. The 'COP26: Investor Action on Climate' series aims to build further momentum toward taking action on climate change by the investment industry ahead of the COP26 Climate Summit.

The world faces numerous societal and economic challenges as it comes out of COVID-19 lockdowns, and these very issues will help investors to address potential crises of the future and understand ways to transition to green growth and recovery.
Agenda:
Opening Remarks

Fiona Reynolds, CEO, PRI
David Craig, Group Head, Data & Analytics and CEO, Refinitiv

Role of Asset Managers in Achieving Net Zero

Jean Hynes, Managing Partner and Incoming CEO, Wellington Management
Investment case for climate action Session objectives

Bob Litterman, Chairman of the US CFTC's Climate-Related Market Risk Subcommittee and Founding Partner, Kepos Capital
How to get Active and Engaged in Investor Initiatives?
Launch of the PRI/LSEG guide to COP26 investor initiatives

Sagarika Chatterjee, Director of Climate Change, PRI and COP26 High-Level Champions Finance Lead
David Harris, Group Head of Sustainable Business, London Stock Exchange Group & FTSE Russell
Initiatives to Drive Climate Action

Net Zero AO Alliance - Nili Gilbert, Board Member and Chairwoman of the Investment Committees, David Rockefeller Fund
CA100+ - Rick Lacaille, Executive Vice President & Global CIO, State Street Global Advisers
Net Zero Asset Managers - Meryam Omi, Head of Sustainability and Responsible Investment Strategy, Legal & General Investment Management
Panel Chair: Arne Staal, Global Head of Research and Product Management, FTSE Russell
The Inevitable Policy Response: 2021

Mark Fulton, The Inevitable Policy Response Project Lead‎ and Advisor to the PRI
What is the Role of Asset Owners in Making COP26 a Success?

Liz Gordon, Executive Director of Corporate Governance, New York State Common Retirement Fund
Kirsty Jenkinson, Investment Director, CalSTRS
Nathalie Lhayani, Head of Sustainability, Caisse des Dépôts
Panel Chair: Sagarika Chatterjee, Director of Climate Change, PRI and COP26 High-Level Champions Team Member