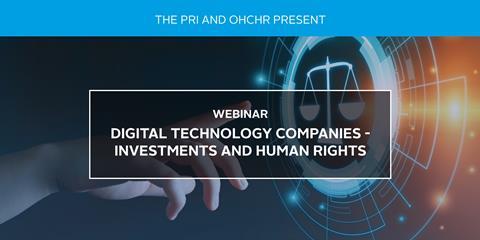 Date: Monday, 17th May 2021
Time: 14:00 - 15:00 BST | 11:00 - 12:00 ET
Platform: Zoom
The Office of the UN High Commissioner for Human Rights (OHCHR) and the PRI are pleased to co-convene an interactive panel discussion on the role and responsibility of institutional investors in promoting the uptake of the UN Guiding Principles on Business and Human Rights (UNGPs) among digital technology companies.
Recent advancements in digital technologies present opportunities for economic growth and the realization of the Sustainable Development Goals (SDGs). Yet, such innovation can also undermine human rights, including through widespread infringements on privacy, 'algorithmic discrimination,' enabling the dissemination of hate speech and online violence, and by undermining democratic processes. Institutional investors, both asset owners and managers, have unique influence to shape how companies in the technology industry are governed, make decisions, and act. This extends to whether or not these companies embed respect for human rights into their operations, products, and services.
A key lever to advance business respect for human rights is to activate investors to operate responsibly. In this regard, the UNGPs are a key tool. They set the expectation that investors at every stage of a company's lifecycle—from start-up to maturity—and across asset classes have a responsibility to ensure that their investments in the technology sector avoid negative impacts.
Confirmed speakers:
Paloma Muñoz, Senior consultant, UN B-Tech Project
Michaela Gregory, Director, ESG Services, NEI Investments
John Howchin, Secretary General, Council on Ethics, AP Funds
Moderator: Nabylah Abo Dehman, Manager, Social Issues, PRI