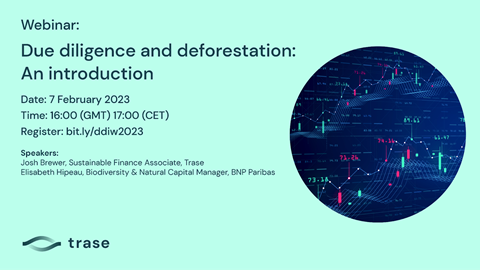 Date: 7 February 2023
Time: 16:00 - 17:00 GMT
Platform: Zoom
Regulators, investors and the public are paying increasing attention to the links between financing and deforestation, which has a critical impact on net zero and biodiversity strategies.
By investing in or providing services to companies that produce, trade and process forest risk commodities, the finance sector becomes exposed to regulatory, reputational and financial risk. How can banks and investors understand and manage this exposure?
This introductory webinar, organised by Trase, will help lay out how due diligence processes can identify, evaluate, mitigate and manage deforestation-related risks, and the tools, data and frameworks available to support these processes.
Speakers
Josh Brewer, Sustainable Finance Associate, Trase
Elisabeth Hipeau, Biodiversity & Natural Capital Manager, BNP Paribas
Moderated by: Jolene Tan, Communications Lead, Trase