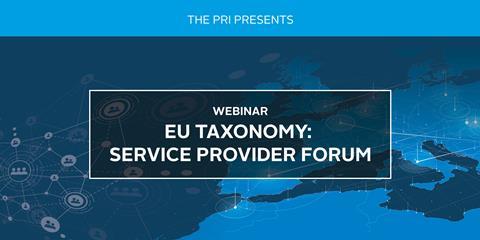 Date: Monday, 19 April 2021
Time: 15:00 - 16:15 BST
Platform: Zoom
The EU Taxonomy is a significant regulation with wide-ranging implications for investors and companies. Service providers, particularly those providing data and analytics, are likely to play a pivotal role to support Taxonomy disclosures.
Service providers are already working to navigate the new requirements and develop products or methodologies for assessing Taxonomy-alignment. However, this remains a challenge as the Taxonomy framework can be complex and key elements – such as calculation methodologies - are still to be adopted by the EU.
This event will act as a collaborative, non-commercial, forum for service providers to learn from others and share their experiences and challenges as they work through the EU Taxonomy.
This event is open to PRI Service Provider Signatories only. To view a list of all PRI Service Provider Signatories, click here.
Agenda
Introductory Remarks

Nathan Fabian, CRIO, PRI and Chair of the Platform on Sustainable Finance
Michael Jantzi, CEO, Sustainalytics and PRI Board Member
Regulatory Overview
Update on the current status of the Taxonomy regulation and future developments.

Alyssa Heath, Senior Lead, Sustainability Reporting and Policy, PRI
Service Provider Presentations
Presentations will discuss how different providers are approaching the Taxonomy, the challenges they are working through and advice for other firms.

Nadia Humphreys, Sustainability Solutions, Bloomberg
Emilie Beral, Executive Director Methods, Innovation & Quality, Vigeo Eiris
Q&A

Nathan Fabian, CRIO, PRI and Chair of the Platform on Sustainable Finance
Michael Jantzi, CEO, Sustainalytics and PRI Board Member
Alyssa Heath, Senior Lead, Sustainability Reporting and Policy, PRI
Nadia Humphreys, Sustainability Solutions, Bloomberg
Emilie Beral, Executive Director Methods, Innovation & Quality, Vigeo Eiris
Closing Remarks