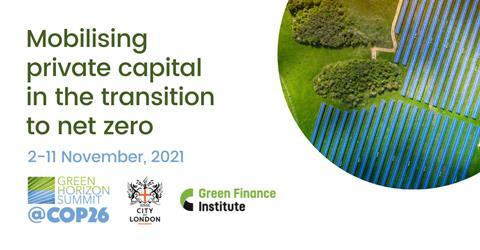 Date: 2 - 5 & 11 November 2021

GHS@COP26 is a five-day virtual conference organised by the City of London and the Green Finance Institute, which will take place during COP26 and provide a platform to engage in practical dialogue and facilitate action around finance.
For the first time finance will be a key COP theme, reflecting the vital role finance will play in transitioning the real economy to net zero. Public finance alone is not going to be enough. We urgently need to scale-up private green finance opportunities to ensure global capital flows are reoriented towards climate- and nature-friendly investments.
The agenda is designed to tackle the big questions around accelerating the flow of capital into climate- and nature-friendly investments, translating commitments into action, and helping financial institutions 'green' their business models. These questions include:
How can we finance transition and growth?
How can we build a global playbook?
How can we price carbon and nature?
How can we mobilise investment into emerging and developing economies?
Speakers include:
Dr Mark Carney, UN Special Envoy for Climate Action and Finance and the Prime Minister's Finance Adviser for COP26
Emma Howard Boyd CBE, Interim Chair, Green Finance Institute
Kate Hampton, Chief Executive Officer, Children Investment Fund Foundation
Ingrid Holmes, Executive Director, Green Finance Institute
Catherine McGuinness, Chair of Policy & Resources, the City of London Corporation
William Russell, The Rt Hon the Lord Mayor of the City of London
Professor Lord Nicholas Stern, Chair of the Centre for Climate Change Economics and Policy
Dr Rhian-Mari Thomas OBE, CEO, Green Finance Institute
Fiona Reynolds, CEO, PRI
For more information and to view the agenda, click here.
Organiser
City of London & Green Finance Institute