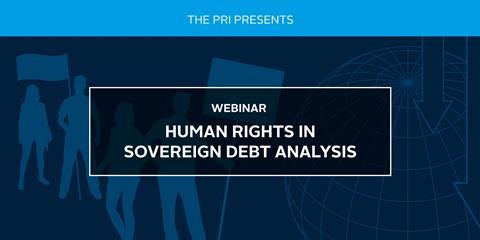 Date: Tuesday, 25 January 2022
Time: 15:00 - 16:00 GMT
Platform: BrightTALK
This webinar will explore how sovereign debt investors can incorporate human rights issues into their decision-making. It will cover: reasons for considering human rights, factors to contemplate when making an investment decision, how to engage with sovereigns, and the value of better communication and collaboration. The webinar follows the publication of the PRI's report 'Human rights in sovereign debt: the role of investors'.
Confirmed speakers:
Troels Børrild, Head of Responsible Investments, AkademikerPension
Lee Clements, Head of Sustainable Investment Solutions, FTSE Russell
Matthew Vogel, Head Strategist and Portfolio Manager, FIM Partners
Lene Wendland, Chief, Business and Human Rights, Office of the United Nations High Commissioner for Human Rights
Introduction: Jasper Cox, Investment Practices Analyst, PRI
Moderator: Carmen Nuzzo, Head of Fixed Income, PRI