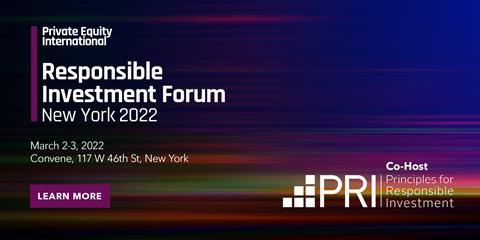 Date: 2 - 3 March 2022
Venue: Convene, New York
We are pleased to announce that the PRI will be co-hosting Private Equity International's sixth annual Responsible Investment Forum New York on March 2‐3, 2022. The Responsible Investment Forum will bring together institutional investors, fund managers, consultants and highly recognized associations to discuss why, when, and how your firm should be implementing an effective ESG strategy.
ESG issues are at the heart of all PEI's editorial coverage, with our reporters consistently following and scrutinizing the ways in which managers in the US are adopting responsible investment practices and what LPs are looking for as they consider investing in private equity.
Click here to view the full speaker list and agenda.
As a PRI signatory, you are entitled to attend the Forum at a flat rate of $2095.00. Simply click on the "PRI Member" ticket option upon checkout.
Topics include:
LP expectations on ESG
Impact Investing for the future
Regulatory considerations
Identifying a "greenwasher"
Diversity, equity, and inclusion
The infrastructure market
Tax planning
Climate solutions