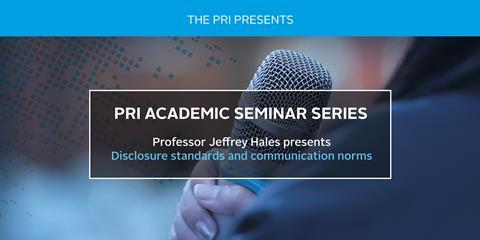 Date: Friday, 23 April 2021
Time: 9:30-11am EDT; 2:30–4pm BST; 3:30-5pm CEST; 9:30-11pm HKT
Platform: Zoom
The PRI Academic Seminar Series invites leading ESG experts to present their research to academic scholars and investors.
The aim of the series is to:
give world thought leaders in responsible investing the opportunity to present their work and obtain valuable feedback
provide an opportunity to junior scholars to network with the speaker and obtain career advice
be more inclusive and strengthen our global PRI Academic Network community throughout the year
Each session will consist of two parts:
Part 1: Presentation (60min interactive seminar) – open to all
Part 2: Network opportunity and career advice for junior scholars with speaker (30min) – open to PhD students and junior faculty
Join us on Friday, 23 April to hear from:


Jeffrey Hales
Charles T. ZlatkovichCentennial Professor
McCombs School of Business
University of Texas at Austin
Read Jeffrey Hales' bio
Paper: Disclosure standards and communication norms: Evidence of voluntary disclosure standards as a coordinating device for capital markets
Co-authors: Khrystyna Bochkay, University of Miami, and George Serafeim, Harvard University
Abstract: In this paper, we examine how the emergence of voluntary disclosure standards can alter the nature of information available to capital market participants. Using an industry-specific dictionary of the sustainability terms contained in voluntary disclosure standards developed by the Sustainability Accounting Standards Board (SASB), we find a significant increase in earnings call disclosures of sustainability issues identified by SASB standards, particularly for firms that had little or no coverage of these issues historically. This trend begins around the time when SASB released a provisional disclosure standard for a given company's industry and continues in the years after. We also find that the change in focus of these disclosures is not just topical, but also temporal, as reflected by an increase in analyst forecast horizon and the percentage of ownership by investors focused on sustainability issues. Overall, these results inform our understanding of the conditions under which standards created in response to market forces are likely to affect voluntary disclosures and communication norms.
Seminar series organiser and moderator 2020 - 2021: Caroline Flammer
Dean's Research Scholar and Associate Professor at Boston University's Questrom School of Business