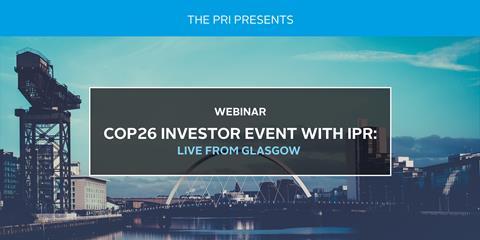 Date: Tuesday, 9 November 2021
Time: 10:00 - 11:00 ET | 15:00 - 16:00 GMT | 16:00 - 17:00 CET
Platform: BrightTALK
With COP26 as the backdrop, this live from Glasgow webinar will assess the biggest outcomes of Week 1 and what Week 2 holds. Looking ahead to the Emissions Gap, the latest Inevitable Policy Response forecasts will be highlighted as part of the way forward in coming years. Join PRI CEO Fiona Reynolds, with COP & IPR representatives for this special signatory and policy maker briefing.
Speakers:
Peter Betts, Former Lead Negotiator UK & EU, Associate Fellow, Chatham House
Mark Fulton, Program Director, Inevitable Policy Response
Thomas Kansy, Director, Vivid Economics
Jane Ambachtsheer, Global Head of Sustainability, BNP Paribas AM
Paul Bodnar, Global Head of Sustainable Investing, BlackRock (TBC)
Moderated by: Fiona Reynolds, CEO, PRI