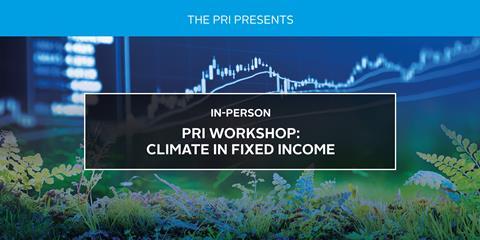 Date: Tuesday, 26 September 2023
Time: 08:45-13:00 BST
Venue: HSBC Global Asset Management (UK) Ltd, 8 Canada Square, Canary Wharf, London E14 5HQ
Fixed income investors are ramping up their assessment of climate-related risks, but difficulties remain. In light of the need for more work in this area, the PRI is delighted to invite you to our Climate in Fixed Income Workshop.
This half-day event is aimed at debt market practitioners (including asset owners, investment managers, credit rating agencies and ESG information providers) to discuss the tools to navigate the transition to net zero across different fixed income asset classes. It will cover topics including target setting, engagement and sustainable bonds.
The workshop will be highly interactive and participants must arrive ready to discuss challenges and solutions with fellow attendees. It will be held under the Chatham House Rule. In order to make it as collaborative as possible, this will be an in-person event with no option to join virtually.
If you are interested in attending this event, please complete this form by 17 July 2023. However, due to capacity constraints, we welcome a maximum of two representatives per organisation. We will confirm your registration for the event in due course.
A detailed agenda will follow.
If you have any questions, please contact Sixtine Dubost, Jasper Cox, or Jonathan Jones.
The PRI would like to thank HSBC Global Asset Management for hosting this event.
HSBC Global Asset Management is a PRI signatory and a key contributor to the PRI fixed income programme.

Venue
HSBC Global Asset Management (UK) Ltd, 8 Canada Square, Canary Wharf, London E14 5HQ