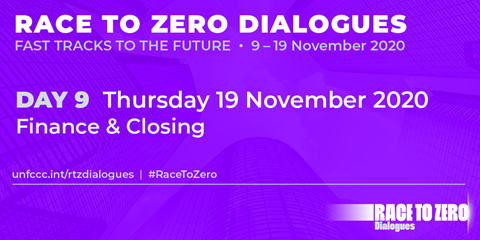 The PRI hosted the Race to Zero Dialogues: Finance Day, organised by the UN High Level Climate Action Champions and the UN-convened Net-Zero Asset Owner Alliance. The finance day was the final day of the Dialogues, with the objectives to:
Understand what setting net-zero targets means for the finance sector in practice
Explore how to finance sector transition utilising sector pathways to net-zero
Explore how to address the challenges with financing resilience
Explore how to finance the race to zero in developing and emerging economies
Showcase practical actions from investors and other finance sector actors
About the Race to Zero Dialogues (9-19 November)
Building a climate-neutral and resilient world remains as urgent as ever. Collaboration between governments and non-Party stakeholders (cities, subnational regions, investors, companies and civil society) will be essential to drive forward systems transformation to reach net-zero and build back better from Covid-19.
The High-Level Champions for Global Climate Action are convening the Race to Zero Dialogues to make sense of the journey to net-zero by honing in on sector transition. The Dialogues will explore the specific actions that each transformation needs to deliver on this ambition, and bring together the diverse range of activities that are already creating impact.
To view the full line up of events visit unfccc.int/rtzdialogues.
Agenda
Finance Day | 19 November
Opening remarks

Gonzalo Muñoz, High Level Climate Action Champion, UNFCCC COP25
Nigel Topping, High Level Climate Action Champion, UNFCCC COP26

Watch on demand
Financing net-zero: where do we need to go - and how fast can we get there?
Organised by: UN-convened Net-Zero Asset Owner Alliance

Kicking off the Race to Zero finance dialogues, this session will focus on what is needed to finance a decisive decade of climate action. This session features the COP26 High-level Champion, COP26 Finance Hub, Mission2020 and UN-convened Net Zero Asset Owner Alliance.

Christiana Figueres, Convenor, Mission2020
Nigel Topping, High Level Climate Action Champion, UNFCCC COP26
Steve Waygood, Chief Responsible Investment Officer, Aviva Investors
Moderator: Sagarika Chatterjee, Director of Climate Change, PRI and COP26 High-level Champions – finance lead

Watch on demand
Decarbonizing Financial Portfolios – why, when and how
Organised by: SBTi and UNEP FI

This session will highlight how institutions across geographies, including banks, are moving to set science-based decarbonization targets for their portfolios. It will discuss how they are working collectively to get the broader global financial sector to move in this direction, such as through the Principles for Responsible Banking and the Science-Based Targets initiative. The session will also touch on the frameworks, tools and data that the finance sector already has at its disposal, and the challenges that financial institutions face not only in the formulation and publication of targets, but also in their implementation.

Isabel Fernandez, Head of Wholesale Banking and member of the Board, ING
Remco Fischer, Climate Change Lead, UNEP FI
Luanne Sieh, Group Head of Sustainability, CIMB
Rhona Turnbull, Climate, Environment & Emerging Issues Lead, Natwest
Moderator: Nate Aden, Senior Associate, World Resources Institute

Watch on demand

Sectors: how can we finance sector transition to net zero?
Organised by: UN-convened Net Zero Asset Owner Alliance

This session will focus on sector pathways to net zero, what finance is needed for these and key priorities from a finance sector perspective.

Zoe Knight, Managing Director, Group Head, HSBC Centre of Sustainable Finance, HSBC
Sona Stadtelmeyer-Petru, Global Head of Sustainable Investing, Allianz Investment Management
Sven Teske, Research Director, Institute for Sustainable Futures, University of Technology Sydney
Moderator: Meryam Omi, Head of Sustainability and Responsible Investment Strategy, LGIM and COP26 High-level Champions

Watch on demand
Market mechanisms to drive transition in developing countries: South Africa
Organised by: National Business Initiative

The session will focus on green stimulus and recovery from COVID, and how market mechanisms could be used to drive transition, incorporating a just transition and equality. This session will focus on voices from South Africa.

Dr Leila Fourie, CEO, Johannesburg Stock Exchange
Ismail Momoniat, Deputy Director General, National Treasury
Andre de Ruyter, CEO, Eskom
Grové Steyn, CEO, Meridian Economics
Moderator: Joanne Yawitch, CEO, National Business Initiative

Watch on demand
Advancing equitable & gender sensitive climate finance for all
Organised by: The Centre for Climate Justice, Glasgow Caledonian University

This session will focus on financing transition with a focus on equitable and gender sensitive climate finance in developing countries.

Professor Pamela Gillies, Principal and Vice Chancellor, Glasgow Caledonian University
Gareth Phillips, Manager Climate and Environment Finance Division, African Development Bank
Mary Robinson, Chair of the Elders
Salina Sanou, Head of Programmes, Pan African Climate Justice Alliance
Moderator: Professor Tahseen Jafry, Director, The Centre for Climate Justice, Glasgow Caledonian University

Watch on demand
Financing a resilient future: how and why to close adaptation financing gaps
Organised by: Zurich Flood Resilience Alliance and Principles for Sustainable Insurance (PSI)

This session will focus on financing climate change adaptation and disaster risk reduction, highlighting effective interventions and expanding existing partnerships.

Alex Angulo, Interim Executive Director, Mercy Corps Europe
Afsari Begum, Project Manager, Practical Action Bangladesh
Xavier Castellanos, Under Secretary General, International Federation of Red Cross and Red Crescent Societies
Alison Martin, CEO of Europe, Middle East and Asia, Zurich Insurance Group
Gonzalo Muñoz, High Level Climate Action Champion, UNFCCC COP25
Moderator: Butch Bacani, Programme Leader, UN Environment Programme's Principles for Sustainable Insurance Initiative

Watch on demand
Public-private finance: financing the Race to Zero in developing and emerging economies
Organised by: Climate Investment Coalition, Climate Investment Funds & World Climate Foundation

This session will bring together public and private finance actors to discuss how to finance the trillions of dollars needed for the Race to Zero in emerging markets.

Torsten Fels, CEO, PenSam
Gianpiero Nacci, Acting Director, Energy Efficiency and Climate Change, European Bank for Reconstruction and Development (EBRD)
Ali Zerouali, Cooperation and International Development Director, Masen
Zoë Knight, Managing Director, Group Head, HSBC Centre of Sustainable Finance, HSBC
Moderator: Amal Lee Amin, Director Climate Change, Value Creation Strategies, CDC Group

Watch on demand
Practical actions: investor collaboration to accelerate actions towards a zero carbon economy
Organised by: The Investor Agenda

This session will feature practical actions and collaboration underway by over 1,200 investors through The Investor Agenda.

Stephanie Pfeifer, CEO, IIGCC
Mindy Lubber, CEO, CERES



Panel 1:


Jon Johnsen, CEO, PKA
Thomas Kwan, CIO, Harvest Global Investments
Betty Yee, California State Controller, board of CalPERS and CalSTRS
Moderator: Fiona Reynolds, CEO, PRI



Panel 2:


Fabio Alperowitch, Director, Fama Investimentos
Navneet Munot, Chief Investment Officer, SBI Mutual Fund
Deanne Stewart, CEO, Aware Super
Moderator: Paul Simpson, CEO, CDP

Watch on demand

Financing a net zero economy - the role of business schools
Organised by: Said Business School & HEC Paris

Business schools create finance and business leaders. As climate change rises up up the boardroom agenda, what changes are business schools making to build the leaders of tomorrow?

Constance Chalchat, Head of Company Engagement, BNP Paribas, CIB and HEC Alumna
Dr. Aoife Haney, Academic Director, GOTO and Joint-Appointment between SBS and SSEE
Khanya Okumu, Oxford SBS MBA alumna and Investment Professional
Moderator: Professor Rodolphe Durand, HEC Paris, Founder & Academic Director of HEC Society & Organizations Institute

Watch on demand
Organiser
The UN High Level Climate Action Champions and the UN-convened Net-Zero Asset Owner Alliance

Contact: events@unpri.org