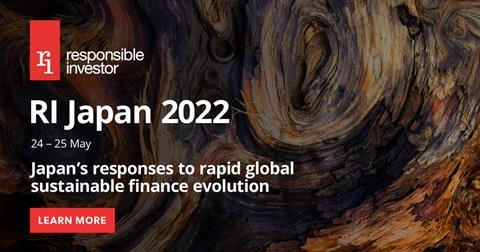 Date: 24 - 25 May 2022
Venue: Toranomon Hills Forum, Tokyo
Responsible Investor's 11th annual RI Japan conference is back in person in Tokyo on 24‐25 May.
Join opinion leaders from Japan and abroad to discover how urgent theoretical and practical issues can marry with the vision for a new era of capitalism in a sustainability‐conscious world. Make connections with 400+ senior Japanese finance professionals to debate regulatory developments, market trends and best practices in responsible investment, and be a part of advancing sustainable finance in Japan. The conference is produced by Responsible Investor, the only dedicated news and events service covering responsible investment, ESG and sustainable finance for institutional investors globally.
日時:5 月 24 日 - 25 日
会場:虎ノ門ヒルズフォーラム
今や世界的なメインストリームとなったサステナブルファイナンスの中で、日本の機関投資家、金融 関係者はどうプレゼンスを確保していくことができるでしょうか。2022 年会議では、国内外のオピ ニオン・リーダーが集結し、新しい時代の資本主義のありうべき実像を視野に、喫緊の理論的・実務 的課題を討議します。 400 以上の団体から参加する金融プロフェッショナルと、規制・政策と市場の動向、責任投資のベス ト・プラクティスについて議論し、日本の持続可能な金融を推進するための一翼を担うコミュニティ の一員となりましょう。 Responsible Investor は、ロンドンに拠点を置く、世界の機関投資家に向けた責任投資、ESG、サステ ナブル・ファイナンスを専門的に取り扱うニュースメディアです。
Reference
Toranomon Hills Forum, Tokyo
Postscript