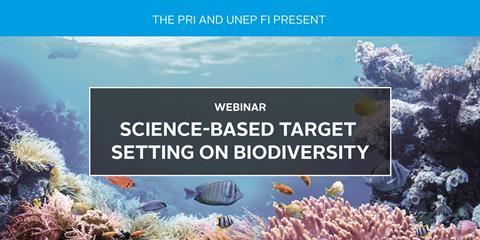 Date: Wednesday, 10 February 2021
Time: 15:00 - 16:00 GMT
Platform: BrightTALK
Many companies are already setting climate science based targets (SBTs) to reduce their greenhouse gas emissions. Companies are now also considering nature science based targets in order to operate within planetary boundaries.
The PRI and UNEP FI are co-hosting this webinar with experts to discuss:
What are science based targets for nature (SBTNs)
How is a net zero emission target being applied and how does this compare with SBTNs?
What needs to be considered in a methodology?
What are the gaps?
How are companies setting biodiversity targets?
Speakers include:
Erin Billman, Executive Director, SBTN
Chris Weber, Technical Director, SBTN
Helen Crowley, Head of Sustainable Sourcing Innovation, Kering
Additional speakers to be confirmed