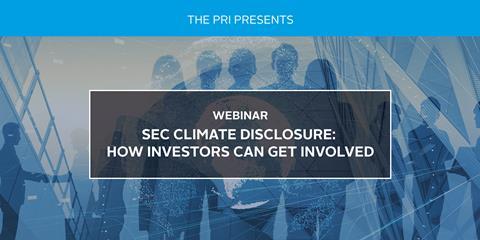 Date: Wednesday, 5 May 2021
Time: 11:00 - 12:00 EDT
Platform: BrightTALK
This webinar will provide an overview of the SEC's request for information by market participants on climate disclosure. Samantha Ross, Founder of AssuranceMark, The Investors' Consortium for Assurance and Degas Wright, CEO, Decatur Capital Management will lead a discussion on topics such as materiality, scenario analysis, CSR reports and assurance (GHG emissions), physical and transition risks, the role of auditors, and critical price assumptions. We will have a Q&A session and introduce ways that investors can get involved.
Speakers:
Gregory Hershman, US Policy, Senior Specialist, PRI
Colleen Orr, Senior Policy Analyst, PRI
Samantha Ross, Founder of AssuranceMark, The Investors' Consortium for Assurance
Degas Wright, CEO, Decatur Capital Management