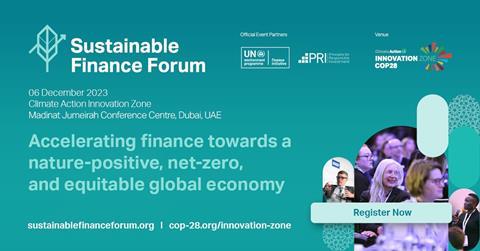 Date: Wednesday, 6 December 2023
Time: 09:30 - 18:30 GST
Location: Madinat Jumeirah Conference Centre, Dubai

The Sustainable Finance Forum will be held on 6 December in Dubai, UAE. Hosted by Climate Action, the PRI and UNEP FI, this event will be one of the biggest platforms for open dialogue with the finance sector held alongside COP28.
UNEP FI and the PRI will bring together 400+ banks, insurers, investors, policymakers, civil society organisations and scientists for discussions on decarbonization, policy engagement, the climate-nature nexus, adaptation and best practices to identify, measure, disclose, and manage sustainability risks in the financial sector. Not to be missed at COP28, this event will enhance collaboration, foster dialogue, promote clear standards, and drive sustainable practices across portfolios and sectors through a series of keynotes, panels and networking opportunities.
Our goal is to align sustainable finance with the real economy and enable a just transition to a net-zero, nature positive global economy.
To find out more and register, please click below.



Blue Zone accreditation is not required for this free-to-attend event.
Venue
Madinat Jumeirah Conference Centre, Dubai