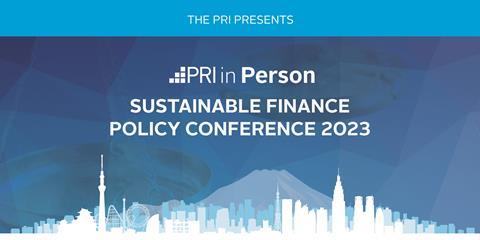 Date: Tuesday, 3 October 2023
Time: 08:30 – 13:00 (followed by lunch)
Location: International Convention Centre Pamir, 3-13-1 Takanawa, Minako-Ku, Tokyo, 108-8612, Japan
The Sustainable Finance Policy Conference aims to convene leading policymakers, regulators, regulatory affairs professionals and investors to a half-day in-person event dedicated to sustainable finance policy, in the run up to the flagship PRI in Person conference.
This event will be an opportunity to discuss what comes next for sustainable finance policy reforms, policy effectiveness and government approaches to the economic transition towards net zero economies. The conference will include panel sessions and discussions with participants on topics including the global governance of sustainable finance, latest developments on embedding outcomes in financial regulations, and responding to the need for credible disclosures on sustainability performance.
This event is of limited capacity. Priority will be given to policymaker and regulatory representatives, and regulatory affairs staff of PRI signatories.
Agenda
08:30-09:00
Registration and refreshments
09:00-09:20
Keynote Address
Al Gore, Chairman and Founding Partner, Generation Investment Management
09:20-09:50
Opening Dialogue: The global governance of sustainable finance – tackling regulatory fragmentation

Multilateral frameworks rely on national government's abilities to establish and enforce regulations that will enable them to deliver on their sustainability commitments. The private sector's role is understood to be critical yet avenues for collaboration or influence are limited. How can investors contribute to the creation of a sustainable international financial architecture, rally around the common drivers of sustainable finance, and support an effective global dialogue on the economic transition? What further role could multilateral organisations play to encourage global policy alignment and mitigate the regulatory fragmentation increasingly occurring with parallel, competing sustainable finance policy reforms?

Speakers:

Masamichi Kono, Former Deputy Secretary-General of OECD; Trustee, IFRS Foundation; Senior Advisor, MUFG Bank
Jean-Eric Paquet, Ambassador of the European Union to Japan**
Moderator: Tamsin Ballard, Chief Investor Initiatives Officer, PRI

09:50-10:50
Policymaker Roundtable: Raising the bar on government ambition to drive the transition

Sustainable finance and real economy policy reforms continue across jurisdictions, with some countries starting to look into more complex, mandatory requirements for market participants. This session will convene policymaker representatives from different markets to outline the ambition and goals for sustainable finance policy reforms in their markets, what solutions are being developed to enable an effective policy implementation, and what are the key questions for investors to consider in order to support an effective, sustainable and just economic transition to net zero.

Speakers:

Raphaël Keller, Minister Counsellor for Economic Affairs, Embassy of France to Japan
Shinichi Kihara, Director General for International Policy on Carbon Neutrality, Agency for Natural Resources and Energy, Ministry of Economy, Trade and Industry
Jessica Robinson, Minister-Counsellor and Senior Treasury Representative, Australia Treasury
Moderator: Nathan Fabian, Chief Sustainable Systems Officer, PRI

10:50-11:10
Break
11:10-12:00
Workshop: Empowering investors and businesses to engage for an effective, ambitious economic transition

This session will aim to respond to the policymaker roundtable and delve into specific policy areas, in breakout group discussions addressing key topics such as economic externalities, market incentives and enabling finance for the transition. The breakout groups will consider policy tools including – but not limited to – stewardship, collaborative engagement, sustainability outcomes, and transition policy. The breakout group discussions will allow for dialogue between regulators and investor regulatory affairs professionals and collect feedback on different policy reforms.

All participants can contribute to the table discussions, provide feedback, and move from one discussion group to the next. The groups will be facilitated by PRI staff and members of the PRI Global Policy Reference Group.
12:00-12:50
Regulatory Roundtable: Discussing the solutions to effective policy implementation

This last session will gather regulatory representatives from different markets to discuss key aspects of ongoing regulatory developments to enable sustainable finance and address questions raised during the investor workshop.

Speakers:

Christine Kung, Head of International Affairs & Sustainable Finance, Hong Kong Securities and Futures Commission
Sacha Sadan, Director of ESG, UK Financial Conduct Authority
Hideki Takada, Director of Strategy Development, Japan Financial Services Agency
Moderator: Kelly Krauter, Head of Legal Framework for Impact, PRI

12:50-13:00
Closing remarks
David Atkin, CEO, PRI
13:00-13:45
Networking lunch
14:00
Start of PRI in Person
**Participation to be confirmed
Venue
International Convention Centre, PAMIR, 3-13-1 Takanawa, Minako-Ku, Tokyo, 108-8612, Japan