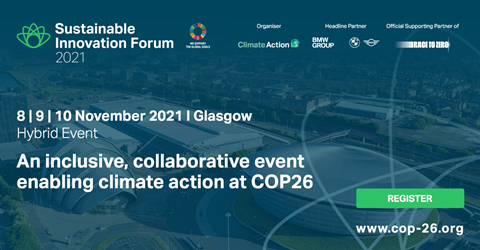 Date: 8 - 10 November 2021
Time: 08:00 - 20:00 GMT
Venue: Innovation Zone – Cessnock Quay, Glasgow
The 12th edition of Climate Action's Sustainable Innovation Forum takes place alongside COP26 in Glasgow, with a fully programmed hybrid event creating a virtual window into COP26, connecting our physical and digital realities, and providing a trusted a global platform for you to engage in the most important climate meeting of our generation.
This forum offers all stakeholders the opportunity to have a tangible impact at COP, helping forge the cross sector, public-private partnerships essential for transformational change, showcasing business action, the power of green finance and the innovative solutions at our disposal today.
Attend to:
Forge cross sector partnerships
Spotlight effective business action
Contribute to crucial discussions with national and regional policymakers driving the transition to a net-zero economy
Help highlight the power of green finance
Learn new products and strategies that will help achieve climate ambitions
If you are a PRI Signatory you can register for free or get a discounted Premium Digital Pass by using code PRI20 when you register below. If you are going to be at COP26 in-person you can apply to be in the audience here.
Speakers include:
Aniruddha Dasgupta, President and CEO, World Resources Institute
Jonathan Brearley, Chief Executive, Ofgem
David Belliard, Vice Mayor of Transformation of Public Place, City of Paris
Ismahane Elouafi, Chief Scientist, Food and Agriculture Organization
Dr Edwin Basson, CEO, World Steel Organization
Raymond Johansne, Governing Mayor of Oslo
Sarah O'Driscoll, Cities Director, Ellen MacArthur Foundation
Eva Zabey, Executive Director, Business for Nature
James Thornton, CEO, Client Earth
Please contact Climate Partnerships and Content Executive Rachel Cooper, if you have any questions at rcooper@climateaction.org.
Venue
Innovation Zone – Cessnock Quay, Glasgow | In-person & online