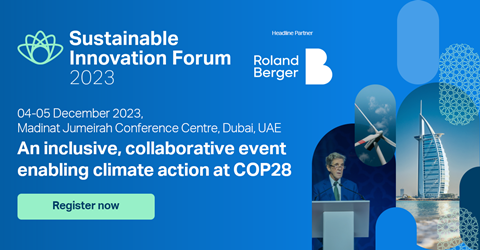 Date: 4-5 December 2023
Location: Madinat Jumeirah Conference Centre, Dubai

The PRI is pleased to support the Sustainable Innovation Forum 2023 which returns for its 15th annual edition during COP, organised by Climate Action, bringing together 1,000 global sustainability leaders across all sectors including business, government, cities, finance, and civil society to promote transformative innovation and tangible climate action to help us go further, faster together.
Taking place from 4-5 December during COP28 within the Climate Action Innovation Zone at the Madinat Jumeirah Conference Centre in Dubai, this strategic location offers easy access to the Forum without requiring COP28 Blue Zone accreditation, ensuring an inclusive platform and gathering for all key stakeholders and decision-makers.
Don't miss out on this chance to make a real impact at COP28. Show your commitment to the global sustainability and climate agenda by joining us. With multiple networking opportunities, it is an ideal opportunity to connect with climate leaders, pioneers and practitioners at COP.
Register now to secure your spot and join us in creating a sustainable and climate-resilient world.
How to register:
PRI is delighted to have 10 complimentary passes for our members to attend the Sustainable Innovation Forum. You can apply for a pass here.
Once these passes are sold out, we are able to offer a 50% discount off all passes, using code: PRI50
Contact Marketing and Partnerships Manager Rachel Cooper directly if you have any questions at rcooper@climateaction.org
Key Speakers:
Francois Austin, Global Head, Energy and Resources, Oliver Wyman
Amy Barnes, Head of Sustainability and Climate Change Strategy, Marsh
Faustine Delaselle, Executive Director, Mission Possible Partnership Global
Rhian Kelly, Chief Sustainability Officer, National Grid
Sherry Madera, Executive Director, CDP
Niki Mardas, Executive Director, Global Canopy
Reece Whitby, Minister for Environment and Climate Action, Western Australia
Zitouni Ould-Dada, Deputy Director, Food and Agriculture Organization of the United Nations
Dickens Kamugisha, Chief Executive Officer, Africa Institute for Energy Governance
Join Climate Action, the PRI and UNEP FI on 6 December for the co-hosted Sustainable Finance Forum.
Click here to find out more.
Venue
Madinat Jumeirah Conference Centre, Dubai