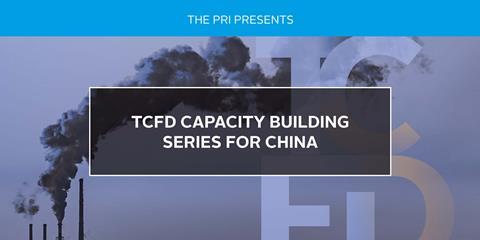 The financial industry plays an important role in supporting China's journey to carbon neutrality. To enhance financial transparency and support efficient allocation of capital, alignment with the recommendations of the Task Force on Climate-related Financial Disclosures (TCFD) is critical towards the net-zero transition. The TCFD Framework also helps investors and regulators better evaluate the climate impacts through a transparent and comparable set of standards.
This series is designed for Chinese investors and regulators with five sessions from March to July. The aim is to build their knowledge and capacity on implementing and reporting on the four TCFD pillars of Governance, Strategy, Risk Management and Metrics & Targets through knowledge, best practices and key resources sharing, and at the same time prepare Signatories on climate-related indicators within the PRI reporting (TCFD-aligned).
This series will be simultaneous translated into English and Chinese.
Session 1: Introduction to TCFD
Date & Time: 3 March 2022 | 15:00 - 17:00 HKT
The first session presented:
Climate risk and opportunities posed investors and the financial market;
Global and local trends of climate reporting and TCFD;
TCFD and its four pillars (Governance, Strategy, Risk Management and Metrics & Targets);
Panel discussion on the value and best practice of TCFD adoption by international and Chinese investors as well as service providers
Watch the recording here: English | Mandarin
Session 2: TCFD Implementation: putting internal processes in place for Governance, Strategy and Risk Management
Date & Time: 30 March 2022 | 16:00 - 18:00 HKT
The second session presented:
Guidance on aligning with TCFD Governance and Strategy Recommendations
Guidance on climate-related risk management tools for aligning with TCFD Risk Management Recommendations
Case study and discussion on TCFD Governance and Strategy in practice, from a leading Investment Asset Manager
Discussion on stewardship for management of climate risk and opportunity
Watch the recording here: English | Mandarin
Session 3: Scenario Analysis
Date & Time: 28 April 2022 | 15:00 - 17:00 HKT
How are investors preparing for an uncertain future characterised by the rise of climate-related risks and opportunities? Scenario planning is a well-established method for developing forward-looking strategic plans for uncertain futures and is a core foundation of the TCFD recommendations.
In this webinar, experts from the PRI and partner organisations will examine why scenarios analysis is useful for investors and stakeholders; what analytical choices scenario analysis involves, and a range of resources available to get started or to improve current processes around scenario analysis for investors considering climate risks. The webinar will be of interest to asset owners, asset managers, and other stakeholders using scenario analysis in their TCFD-aligned investment strategy.
Watch the recording here: English | English & Mandarin
Session 4: Metrics & Targets
Date & Time: 12 May 2022 | 16:00 - 18:00 HKT
Metrics and targets are essential tools for tracking progress on climate-related strategies, managing risks, and measuring the impact of opportunities. They are an integral component in delivering action in line with the TCFD's Governance, Strategy, and Risk Management pillars reviewed in earlier sessions. In this session, PRI and partners will examine the principles that underpin the selection and use of TCFD-aligned climate-related metrics and targets, review a number of tools and approaches for various climate-related metrics, and hear from a leading investor on how they are using metrics to track progress on their climate strategy.
Watch the recording here: English | Mandarin
Session 5: Transition Plans (Net Zero Pathway)
Date & Time: 14 July 2022 | 16:00 - 18:00 HKT