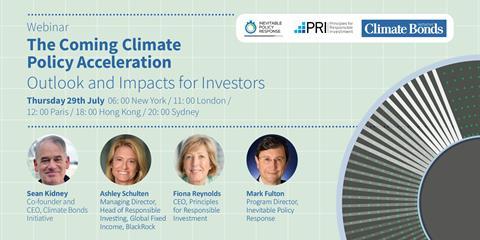 Date: Thursday, 29 July 2021
Time: 11:00 - 12:15 BST | 12:00 - 13:15 CEST
Platform: Zoom
Join the PRI, Climate Bonds and the Inevitable Policy Response (IPR) for a webinar on the Climate Policy Acceleration: Outlook and Impacts for Investors.
Commissioned by the PRI in 2018, the IPR seeks to provide institutional investors with a forward assessment of coming acceleration in global & national policies on climate, carbon, coal, energy, industry, zero emission vehicles, agriculture and land use transition.

Against the backdrop of the fast approaching 2023 Paris Stocktake and the 2025 Paris Ratchet, IPR forecasts an acceleration of policy maker actions, posing an increased level of climate-related impacts, risks and opportunities for institutional investors.
During this webinar we will discuss:
What are the top 10 of IPR latest forecasts?
Are institutional investors ready for the coming acceleration?
What effect will the Paris Stocktake & Ratchet have on policy makers?
What are the implications for investors, climate finance and green capital markets?
Speakers:

Ashley Schulten, Managing Director, Head of Responsible Investing for Global Fixed Income, BlackRock
Mark Fulton, Program Director, Inevitable Policy Response (IPR)
Sean Kidney, CEO, Climate Bonds Initiative
Moderated by: Fiona Reynolds, CEO, PRI