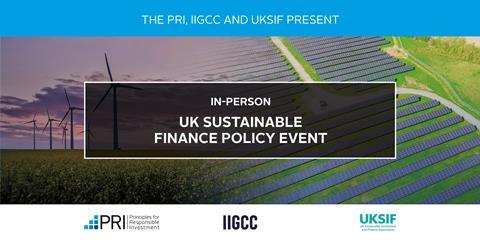 Date: Tuesday, 27 June
Time: 14:00-17:30 BST, followed by networking drinks
Venue: Redington, 1 Angel Court, London EC2R 7HJ

The PRI, UKSIF and IIGCC invite you to a joint event on UK Sustainable Finance Policy on 27 June during London Climate Action Week. The event provides an opportunity to engage with policymakers and regulators, discuss UK sustainable finance policy developments following the publication of various proposals including the Green Finance and Net Zero Strategy updates.
This meeting will engage UK policymakers and other key stakeholders on the following topics:
UK becoming a Net Zero-aligned Financial Centre and responding to the U.S Inflation Reduction Act
Establishing a supportive policy framework for transition Finance and the decarbonisation of the real economy
Fiduciary duty
Register your interest below. Due to capacity, we may need to limit participation to one member per organisation.
We would like to thank our host Redington for their support with this event.


Venue
Redington, 1 Angel Court, London EC2R 7HJ