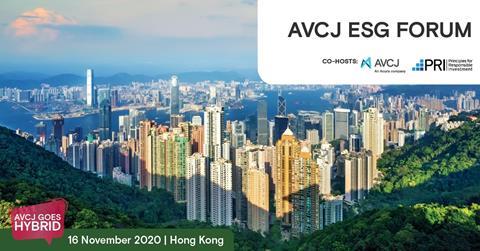 Date: Monday, 16th November 2020
Time: 09:00-17:00 HKT

The PRI and AVCJ are pleased to co-host the annual AVCJ ESG Forum on the 16th November, which returns in a hybrid format this year, combining a live in‐person conference with virtual and interactive broadcasts. This forum aims to provide GPs with a deep dive into the latest trends and issues affecting ESG integration and impact investing around the world, and to foster dialogue and debate between GPs, LPs, and industry participants.
In the past year, it has become apparent that the integration of environmental, social, and governance (ESG) factors into investment strategies matters more than ever before. As ESG moves into the mainstream across the globe, Asian GPs can expect to feel the pressure from their LPs as the dialogue begins to shift. It is therefore crucial not to be left behind.
PRI signatories can receive a 10% discount upon registration, to receive the promotion code please email james.robertson@unpri.org
Click below to find out more and to register.
Speakers Include:
Megan Starr, Global Head of Impact, The Carlyle Group
Suzanne Tavill, Global Head of Responsible Investing and Partner, StepStone
Kevin Lu, Chairman, Asia, Partners Group
Vikram Raju, Impact Investing Council Chair, Head of Emerging Markets & Climate Impact, Morgan Stanley AIP
Kelly Christodoulou, ESG Investment Manager, AustralianSuper
Huai Fong Chew, Regional Lead, Funds, East Asia & the Pacific, IFC
Ana Lei Ortiz, Managing Director, Hamilton Lane
David Russell, Head of Responsible Investment, Universities Superannuation Scheme
Adam Black, Head of ESG and Sustainability, Coller Capital
Steve Okun, ASEAN Representative, EMPEA
Hannes Valtonen, Director of Compliance, Baring Private Equity Asia
Katsuya Baba, Partner, Chief Administrative Officer, Advantage Partners
Venue
Four Seasons Hotel, 8 Finance Street, Central, Hong Kong