LOCATION: London
BASIS:  Full-time
LEVEL:  Associate
SALARY: £24,000- £30,000 p.a.
Job description
The Associate, Planning and Operations will be a part of the team that provides data, research and analysis (quantitative and qualitative) from across the organisation. This information is used to help better inform decision-making, effectiveness at all levels of the organisation (from all staff, to the management / leadership forums, to the PRI Board), and assist with future planning (at the Executive and board).
The role will be within the Planning and Operations team but will require the individual to work with teams and individuals across the organisation.
The role will also assist with elements of the corporate secretariat work, associated with the PRI Board and its committees, including board planning, effectiveness and papers.
The role is a good introduction to both the PRI and responsible investment.
This role reports to the Director of Planning & Operations.
Core Responsibilities:
Data analysis on signatory (and non-signatory) trends.
Signatory consultations / surveys analysis as appropriate.
Assistance with the development of systems to monitor and report against strategic and management KPIs.
Assistance with the monitoring and reporting on projects within the project management system.
Establishing reports / dashboards for teams across the organisation.
Preparation of briefings and presentations for the planning and operations team.
Implementation of cross-organisational systems and projects.
Assistance with annual planning processes, Executive and board, as appropriate.
Assistance with regular reporting to the board, including against the measures and other items (analysis / special projects) as appropriate.
Drafting board and committee papers.
Responsibility for the annual PRI Board election process and other projects as appropriate.
Assistance with elements of board (effectiveness) processes, including board / chair assessment.
Provide regular reporting to Director of Planning and Operations as required.
Core Competencies:
PRI expects roles at a 'Associate level' within the organisation to demonstrate skills across the following core competencies: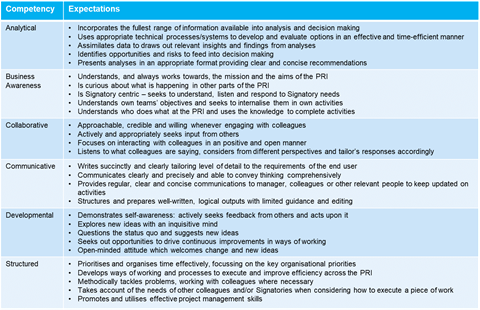 Technical Competencies & Experience:
Excellent written communication and verbal presentation skills.
Experience with research and data analysis.
A collaborative and consultative approach to working with others.
Excellent analytical skills.
IT/system skills (Microsoft Office, website management systems, CRM, etc.)
Good project management skills.
Proactive self-starter who looks to improve projects / systems / functions.
Attention to detail.
Interest in responsible investment is desirable.