LOCATION: London
BASIS: Full-tme
LEVEL:  Associate
SALARY:£30,000-32,000 p.a
About the PRI Academy
The PRI Academy (a subsidiary of the Principles for Responsible Investment) was developed to provide industry-leading training for financial services, investors and other professionals needing to understand how environmental, social and governance issues (ESG) are impacting company performance, shareholder value and investment decision making. The training is completely web-based with a global curriculum designed to upskill teams and professionals across investment and capital markets. The Academy is the global leader in responsible investment training having enrolled over 7,000 professionals from over 65 countries.
Working at the PRI Academy provides an opportunity to engage with highly motivated, culturally diverse professionals in a highly successful social enterprise. The PRI Academy has hit a milestone and is counted among the 8-10% of all social enterprises that has thrived after 5 years in operation. The Associate will have the rare opportunity to get in on the ground floor and scale up a proven small business into a globally recognized organisation.
Job description
The PRI Academy associate will support both the operations and sales team. In a sales capacity, the associate will be responsible for inside sales activities through lead generation and sales support for senior staff. In an operations capacity, the associate will be the first point of customer service contact externally and internally will support reporting, invoicing and collateral production. This is a high growth role where the new associate will develop a well-rounded skillset applicable to any successful social enterprise or and/or start-up.
Core Responsibilities:
Provide the highest levels of customer satisfaction through excellent sales service, assessing customers' needs and provide assistance and information on product features
Undertake sales support activities, including, maintaining commercial details and reports on clients or potential clients, developing business opportunities and researching and analysing sales options
Responsible for individual and small group sales
Undertake direct and indirect sales outreach
Maintain professional and technical knowledge by attending educational workshops, reviewing professional publications, establishing personal networks, and benchmarking
Produce PRI Academy collateral and marketing materials, including, proofreading and copy-editing communications
Provide research for business and strategy planning to include topics such as pricing analysis, competitor analysis, business model research, board papers, etc.
Oversee the automation of the customer journey from registration through to issuing certificates, KPI tracking on a monthly, quarterly and yearly basis, maintaining
Responsible for Academy administration, including, managing the PRI Academy inbox, invoices and sales contracts, customer reminders, financial reporting
Responsible for maintaining the CRM
Liaise with the PRI communications team regarding events, courses and announcements
Core Competencies:
PRI expects roles at a 'Associate level' within the organisation to demonstrate skills across the following core competencies: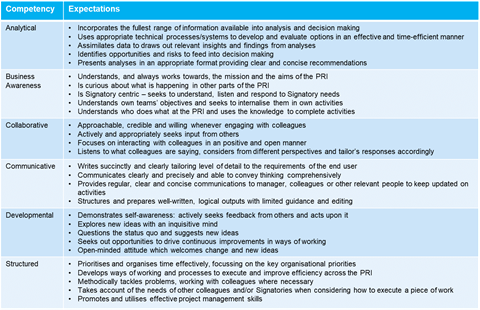 Technical Competencies & Experience:
Educated to at least degree level
Experience working in a professional and international environment; e.g. the financial services industry or similar
Experience in a sales environment with initial stage sales or inside sales is desirable, as is an understanding of responsible investment / sustainable finance
Financial administration including production metrics and reports
Knowledge of producing high detail marketing materials
At least intermediate knowledge of relevant IT (e.g. Excel, Word, PowerPoint, and ideally Salesforce or other CRM system)
A confident and professional manner in dealing with senior business professionals
Strong attention to detail
Self-starter and ability to learn quickly
Diplomacy, tact, and ability to work well in teams
Excellent written communication and verbal presentation skills
A collaborative and consultative approach to working with others
Good project management skills
Language skills, other than English, are an advantage