LOCATION: London
BASIS: Full-time
LEVEL: Associate
SALARY: £25,000-30,000 p.a
Job description
As the Junior Salesforce Administrator, you will be providing technical expertise to the CRM users and wider business, while also carrying out vital audits, project support and administrative duties. To succeed in this role you need to have strong communication skills, with at least one year's Salesforce experience as a solo Admin or working as part of a wider team. This role will be working alongside our Salesforce Administrator, your work will involve the maintenance and management of Salesforce as you take charge of the data cleaning and enrichment processes. As the PRI continues to grow, you can expect there to be plenty of opportunities for personal development, as well as the opportunity to learn and customise Lightning UI, as well extend support to Marketing Cloud.
Core Responsibilities:
Providing technical support for all CRM users, managing support calls in order of urgency and escalating calls where needed.
Managing data and keeping records accurate up to date and consistent across PRI systems.
Basic Salesforce Administration (Data maintenance, dashboards, reports, fields, page layouts, etc).
User Management (ADM ideal)
User creation/deactivation
User role assignment
User induction
Monitor automated bulk data update jobs.
Keeping up to date with Salesforce releases.
Assist with implementing & testing all-new enhancements and add-ons from Salesforce releases as well as and custom internal enhancements.
Create step by step user guides/manuals.
Provide regular reporting to the Salesforce Administrator and the Head of IT as required.
Core Competencies:
PRI expects roles at a 'Associate level' within the organisation to demonstrate skills across the following core competencies: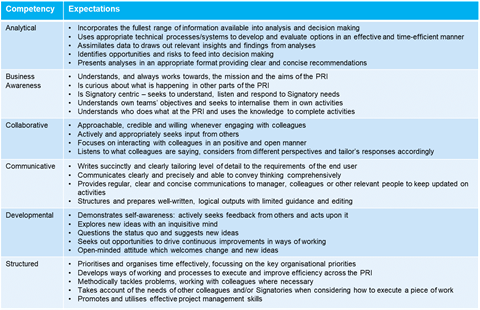 Technical Competencies & Experience:
Experience working with Salesforce Sales Cloud CRM Systems/Data Entry.
Demonstrate the ability to work with technical systems.
Understanding of Salesforce declarative capabilities.
Excellent written communication and verbal presentation skills.
A collaborative and consultative approach to working with others.
IT/system skills - Microsoft Office, CRM (Salesforce), understanding of apex and visualforce capabilities and willingness to learn.
Experience of managing and manipulating large sets of data using excel.
Meticulous attention to detail.
A can-do attitude and drive to deliver to deadlines at pace.
A team player with excellent interpersonal skills.
Experience of using Email Marketing Cloud (would be an advantage)
Stakeholder management skills.
Salesforce Certified Administrator desirable.