LOCATION: London (this is a global role, international travel may be required)
BASIS: Full-tme
LEVEL:  Specialist
SALARY:£38,000-42,000 p.a.
About the PRI Academy
The PRI Academy (a subsidiary of the Principles for Responsible Investment) was developed to provide industry-leading training for financial services, investors and other professionals needing to understand how environmental, social and governance issues (ESG) are impacting company performance, shareholder value and investment decision making. The training is completely web-based with a global curriculum designed to upskill teams and professionals across investment and capital markets. The Academy is the global leader in responsible investment training having enrolled over 7,000 professionals from over 65 countries.
Working at the PRI Academy provides an opportunity to engage with highly motivated, culturally diverse professionals in a highly successful social enterprise. The PRI Academy has hit a milestone and is counted among the 8-10% of all social enterprises that has thrived after 5 years in operation. The Associate will have the rare opportunity to get in on the ground floor and scale up a proven small business into a globally recognized organisation.
Job description
The role will serve both account management and business development functions. In a sales capacity, the role will serve a senior role in commercial sales. In an account manager capacity, the role will manage relationships with a portfolio of clients which include some of the largest financial institutions in the world and is vital in growing sales in this segment through our custom course offerings.
Core Responsibilities:
Meet or exceed sales goals
Assume responsibility of the Academy sales pipeline
Independently give in-person or virtual sales presentations to a range of prospective clients which include the world's leading financial institutions
Coordinate sales efforts with marketing campaigns
Maintain professional and technical knowledge by attending educational workshops, reviewing professional publications, establishing personal networks, and benchmarking state-of-the-art practices
Plan and execute solutions for the sales team to deliver to customers
In collaboration with the Director, develop segmentation, target identification and prioritization strategies for our high value custom products for leading global financial institutions
Assume ownership of existing client relationships which include some of the world's leading financial institutions
Develop and manage relationships with existing and new B2B clients
Work to achieve client and academy goals simultaneously
Identify new sales opportunities by up-selling and cross-selling within existing accounts
Externally, liaise with client learning & development staff, human resources staff, and/or subject matter experts to establish client expectations and deliverables for a portfolio of B2B clients
Internally, liaise with PRI relationship managers and subject matter experts to ensure alignment of mission and to create new opportunities
Core Competencies:
PRI expects roles at a 'Specialist level' within the organisation to demonstrate skills across the following core competencies: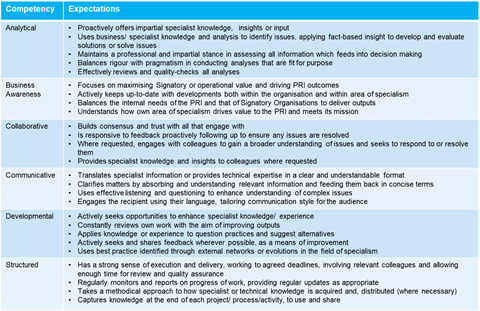 Technical Competencies & Experience:
Significant track record in sales; B2B preferably
Understanding of responsible investment / sustainable finance
Demonstrated ability to lead presentations to high level executives
Experience working in a professional and international environment; e.g. the financial services industry or similar
Start-up or entrepreneurship experience is desirable
High business acumen
Educated to at least degree level
Investment qualification(s) is desirable
At least intermediate knowledge of relevant IT (e.g. Excel, Word, PowerPoint)
Substantive knowledge of CRM systems, preferably Salesforce
A confident and professional manner in dealing with senior business professionals
Superb written communication and verbal presentation skills
Strong attention to detail
Self-starter and ability to learn quickly
A collaborative and consultative approach to working with others
Language skills, other than English, are desirable
Must have the right to work in the UK
Investment qualification(s) is desirable
Language skills, other than English are an advantage