LOCATION: London
BASIS: Full-time
LEVEL: Senior Specialist
SALARY: £50k-60k p.a.
Job description
This role sits in the ESG team and manages PRI's Sustainable Land Use program, which aims to halt deforestation and land conversion in soft commodities production and agricultural supply chains. The position is responsible for coordinating the crucial role that investors play in addressing ESG and climate risks related to soft commodity production associated with deforestation. It is a project management role which requires deep expertise on agriculture and forests, as well as excellent strategic and coordination skills.
Core Responsibilities:
Manage the Sustainable Land Use Initiative including providing strategic direction, managing donor and partner relationships, and reporting.
Management of investor relationships
Procure or undertake research
Monitor and track progress of the projects
Increase awareness of land use change and deforestation with investors and on PRI's activities with external stakeholders
Write guidance, briefing documents or reports on the projects and topics
Coordinate a network of relevant stakeholders
Collaborate internally with different teams where appropriate
Participate and speak at external events
Support internal knowledge sharing on environmental issues
Provide coaching and mentoring to more junior members of the team, including sharing technical knowledge and expertise where appropriate
Support the Head of Environmental Issues in delivering against the team's business plan and budget
Provide regular reporting to the Director of ESG and Chief Responsible Investment Officer as required
Core Competencies:
PRI expects roles at a 'Senior Specialist level' within the organisation to demonstrate skills across the following core competencies: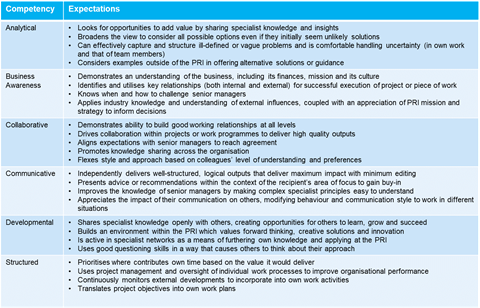 Technical Competencies & Experience:
Significant expertise in ESG issues related to soft commodities and the links with deforestation, climate, trade, financing and policy.
Knowledge of land use issues in South America and Asia.
Understanding of shareholder engagement processes
Degree in a field related to finance, responsible investment and/or sustainability. A postgraduate qualifications in a similar field is desirable.
Relevant work experience in responsible investment and/or corporate sustainability. Experience on environmental issues within RI or sustainability would be advantageous.
Experience of coordinating multi-stakeholder initiatives
Portuguese speaking
Excellent written communication and verbal presentation skills with the ability to deliver high quality briefings and reports with minimal supervision
A collaborative and consultative approach to working with others
Excellent relationship management and interpersonal skills
IT/system skills (Microsoft Office, CRM, social media, webcasts, etc.)
Very good programme management skills, with experience in delivering successfully, including directing others that may not be your direct reports
As this is a global role, international travel may be required.
Must be eligible to work in UK
Initial interviews will be scheduled 9 and 10 January.