This paper pulls together the strands of the IPR, and sets out the issues to support a robust investor response across the broader areas of portfolio management processes, including taking preparatory action to review governance arrangements, risk management processes, engagement with policy-makers, companies and service providers.
Whilst a degree of consultation with policy-makers might transpire in order to make an IPR policy implementation outcome as efficient as possible, companies and investors would largely be price-takers during the maximum volatility phase of the market adjustment. During this period, it would largely be a case of investors needing to urgently react to the policy measures to minimise losses on high-carbon exposures, whilst capturing the low-carbon opportunities that will escalate considerably due to an IPR.
The period of uncertainty and rapid transition associated with an IPR therefore calls for accelerated leadership and preparatory action from within the institutional investor community. The PRI welcomes the efforts of its leading signatories in taking climate change action, but notes that the potential for more forceful (and unanticipated) climate policy action underscores the need for heightened action and wider uptake across the broader investment community.
The key leadership issues related to an IPR
How might regulators turn to existing climate leaders to implement any unique IPR-oriented asset management tasks. For example, large-scale clean energy investments or the creation of private funds to manage stranded assets?
To what degree can the skills, knowledge and systems of the leaders be rapidly reproduced in the followers as a catalyst to accelerated action?
Will leaders get compensated for sharing their skills and knowledge?
How would governments maximise the use of existing asset-owner and service-provider leaders to solve the global problems?
The paper sets out the investor response, according to the three investment impact phases of an IPR, including the pre-announcement pre-emptive period (Phase 1), the interim announcement / high volatility period (Phase 2) and the post-announcement period of stability (Phase 3).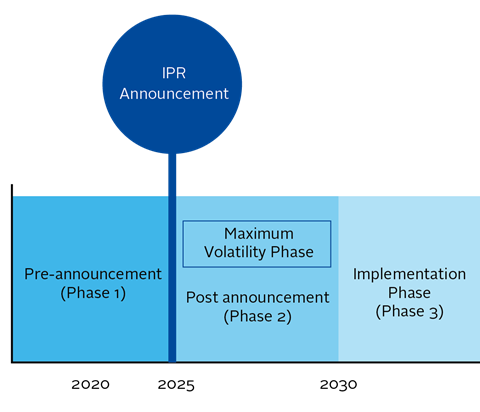 Phase 1: Pre-emptive action and pre-announcment phase
Asset owners have policies that guide most of their activities and under IPR would be no exception. Pro-active asset owners can better navigate the maximum volatility experienced from the announcement and the execution / implementation phases, leading to normality. Asset owners should therefore consider the following issues as part of their preparatory actions to an IPR.
Review governance structures, including agreement and definition of where the responsibility sits at the board and committee level for assessing and responding to an IPR.
Obtain agreement from the board and investment committee on the need for reflecting an IPR in all policies.
Prepare an implementation plan to allocate specific resources under IPR.
Develop policy positions on unique investment collaborations and investment vehicles, e.g., taking large-scale stranded assets off market to maintain operation.
Define some IPR oriented appropriate risk mitigation strategies, including a review of the implications for SAA (see technical paper Strategic asset allocation and portfolio construction).
Understand the potential role of the investors in the management of stranded assets, including the potential creation of special purpose vehicles (SPVs) for issues like fossil-fuel-company run off.
Understand the range of potential macroeconomic and microeconomic implications of an IPR for investment portfolios (see technical paper When, what and how).
Implement a plan for IPR service provider restructuring and engagement.
Update policy and regulator engagement to include IPR.
Phase 2: Announcment and maximum volatility phase
Whilst the post-announcement phase may have high levels of volatility, the maximum volatility phase will be recognised for some specific extreme issues. Some of the issues for asset owners to consider are provided below.
How would asset owners manage the maximum volatility phase at all levels of their organisation?
Are there short-term measures required that potentially breach regulatory limits for some asset owners, and how can they engage with regulators to create the required flexibility during IPR?
Do the board and investment committee fully understand the portfolio implications of the maximum volatility phase?
What legal implications for asset owners are there for the new levels of maximum volatility, including the stranded asset position? Do asset owners need to take some legal actions of their own to recoup losses?
What key companies with stranded assets need support through the maximum volatility phase, and how should asset owners engage with them?
Which providers need de-selection and which require extension of their mandates and is there a case to move money back in house by asset owners.
Do asset owners understand what fixed income securities are at risk, and how credit rating agencies are responding?
Are there any financial regulations that require immediate amendment to ensure stability?
What bodies or collaboration mechanisms need to be set up to move to the next phase quickly?
If there is any country-level resistance to IPR, how do asset owners play a role?
Managing stranded assets
Identifying potential, and indeed currently, stranded assets is work that PRI has already undertaken with Carbon Tracker in the report, '2 Degrees of Separation'. Identifying which emissions-intensive assets would continue to produce cash flows under an IPR is an important question for investors.
An IPR would, in effect, crystalise the potential to model expected cash flows. As explained in 'IPR: When, What, How', the modelling of cash flows allows assets to be valued as a starting point. From this point, actual impairment tests would identify stranded assets.
It would be during Phase 2 of an IPR and the maximum volatility period (and following) that investors would need to manage assets that may become stranded due to the combined effect of a rapid, and not yet anticipated, IPR. The technical paper 'Investor Actions' includes further discussion of the options for managing stranded assets in response to an IPR, which would form part of the intended research programme.
In brief, some of the key issues related to managing stranded assets, which are further discussed in the technical paper, 'IPR: Investor Actions', include:
Identifying stranded assets in the lead-up and through impairment tests
Potentially stranded assets can be identified in scenario testing, and companies are engaged right now on that basis. After an IPR is announced, there are recognised approaches for companies to write down assets through impairment tests across jurisdictions. That is not always a simple or clear task, especially when it comes to an economic test, and investors have an interest in this phase to push for as much disclosure as possible. The technical paper begins to explore these issues for listed private sector assets31. It is also possible that some companies conclude that assets that could be negatively impacted by an IPR are not impaired, and engagement with companies would help to identify potential risks ahead of, and during, the 2025–30 IPR timeframe.
End-of-life decommissioning unintended consequences
A key consideration is to fully exit stranded assets from the system – full decommissioning, rather than allowing assets to continue to operate at suboptimal levels of return. Further, the technical paper notes that it will be necessary to examine the unintended consequences of listed companies selling down assets at reduced valuations, thus causing more market turbulence in the assessment of winning/losing assets and companies. Further research would model these effects and their impact on valuations.
Negotiating with regulators relating to an orderly and just transition
This might be necessary in countries and sectors where an orderly retirement of assets is required, and where the job losses and social costs are potentially high in the short-term, due to the phasing out and impairment of high-carbon assets32.
Run-off strategies
Listed companies in affected sectors can agree with their investors to employ 'run-off' strategies that maximise the cash flow paid out, either as dividends or used to refinance directly into low-carbon assets and businesses. This can apply either at the overall company or divisional level, and can utilise various corporate structures/vehicles. The technical paper discusses run-off strategies as a topic for further research.
Creating responsible investment pools to manage exits
The technical paper discusses a SPV run-off structure as another possible option to manage exits off market. Investors in "pools of responsible private capital" could choose to buy assets and take them private in order to manage a run down to de-commissioning. In effect, an investor, rather than a company, leads the move to create special vehicles. The technical paper sets out the issues to explore as part of further research.
Phase 3: Post-announcement stability phase: 2025-2030
This phase would start in 2025, and run parallel to the maximum volatility phase described above. Here, investors make a rapid and concerted effort to prepare for implementation in 2030, which has implications for all the major areas of their business. Some of the issues to consider ahead of Phase 3 are provided below.
What changes in governance structures and processes will be required to support various aspects of IPR implementation and decisions. This includes asset owners – pension funds, insurance companies, sovereign wealth funds – and asset managers.
What internal governance barriers need to be overcome to minimise resistance to ongoing implementation of IPR activities?
What governance changes are required to allow scaled investment in SPVs?
Identify investor legal boundaries (e.g., liquidity requirements).
Examine the capacity requirements (skills, resources, capabilities) at all levels of the investor organisation to deal with an IPR implementation.
Identify what data and metrics might be required under IPR, in addition to a more orderly 2-degree pathway.
Define possible unique collaborative agreements required, and commence early negotiations with other asset owners in preparation.
The degree to which any shifts in SAA may be required, and the implications for long-term investment strategy (see technical paper Strategic asset allocation and portfolio construction for further discussion).
Company engagement and IPR
Whilst the economic underpinnings of carbon pricing, performance standards and other policy measures associated with an IPR would directly impact company assets, there is a need for asset owners to engage with companies to support the efficient implementation of these policy measures. The issues for asset owners to consider ahead of this period are set out in the 'Investor Action' technical paper.
Engagement with investment managers and other service providers
An IPR would have a significant impact on the key relationships that asset owners have with their service providers. Given that most agency relationships are defined by mandates or contracts, the restructuring of contracts can be complex and time-consuming – both elements in short supply during the IPR post-announcement phase.
With a core IPR assumption that carbon will be regulated at the asset level, some elements of service provider engagement may actually become simpler. However, overall IPR volatility and degree of change will likely add to the service provider complexity, although the impacts will vary according to type of service provider.
At an economic level, the service provider issues would 'wash through' as asset owners and service providers react, but the massive capital switch taking place in portfolios makes efficiency of the capital switch a key issue. The key service provider issues that asset owners would need to attend to are provided in the technical paper.
Engagement with policy-makers and regulators
The onset of the IPR maximum volatility phase would lead to a unique engagement relationship between asset owners and policy-makers. Under IPR, policy-makers would have inherent resolve to legislate, when the only debate would be around the efficiency of policy measures.
Leading asset owners would be in a strong position to engage with policy makers across a range of areas during (and in the aftermath of) an IPR, including any regulatory restrictions that limit allocation to low-carbon assets, as well as retiring and transitioning away from high-carbon and potentially stranded assets.
Download the technical paper
The inevitable policy response: investor actions

September 2018
The inevitable policy response to climate change
1

2

3

4

5

Currently reading

Investor actions