This paper is designed for asset owners and considers all service relationships they use to fulfil their obligations to their members and beneficiaries.
As such it considers services from investment managers, those in the service provider PRI signatory category (including investment consultants, research providers, index providers, ESG rating providers) and a range of service providers that are not traditionally PRI signatories, including proxy advisors, accountants, legal firms, trade industry associations and NGOs).
With the rapid development of responsible investment and the new understanding of what it will take to limit climate change to "well below 2 degrees" of warming, asset owners have realised that aligning portfolios to the Paris Agreement will not be achieved without strong guidance of these key agents and service providers to align with the asset owners' objectives. This paper analyses the key mitigation challenges to ensure agent and service provider alignment with the Paris Agreement that reflects asset owners' own commitments, including the key role played by the most important agent, the investment managers. It describes what actions are required to overcome some of the barriers to attaining this alignment. The challenging nature of the Paris Agreement objectives towards 1.75 or 1.5 degrees of warming with a 50%-66% probability demands going beyond a "best efforts" or "best practice" approach to look at what asset owners need to execute to achieve this objective.
The target audience for this paper and its coverage is:
CIO and investment committee for manager selection;
investment committee for consultant selection;
CEO/CIO/Head of responsible investment for engagement with index providers, ratings agencies;
trustee/board for mandate structures and engagement strategy/policy/structures.
Asset owners at the top of the investment chain are naturally best placed to drive the long-term investment strategies that Paris Agreement alignment represents. All asset owners use third parties for at least some of their key investment functions and so driving Paris Agreement alignment down the value chain will not only assist their own strategy but will drive change in the market generally as service providers create capacity and skills that can then be supplied to other asset owners.
An instructional approach to service providers will not be sufficient in this case– just telling service providers to become Paris Agreement aligned will likely not yield results and will be inefficient. Instead, asset owners need a comprehensive understanding of the barriers each service provider faces in becoming Paris Agreement aligned, including the cultural, behavioural and governance barriers. The greater the understanding of these barriers, the smoother the transition will be for asset owners.
At a basic level, asset owners are looking to align their service providers in the core investment functions that will define their success towards Paris Agreement alignment. These key functions are:
the selling of high carbon assets;
the buying of low carbon assets;
the re-allocation of capital to asset classes favourable to low carbon assets and/or allocation to low carbon assets as a sub-asset class category;
changing of benchmarks used to guide investing in certain asset classes;
engaging with companies and service providers;
engaging with policymakers and regulators.
This paper examines the following service providers:
investment consultants;
investment managers;
index providers;
credit ratings agencies (CRAs);
proxy advisers;
accountants;
legal firms;
NGOs;
trade industry associations;
data companies.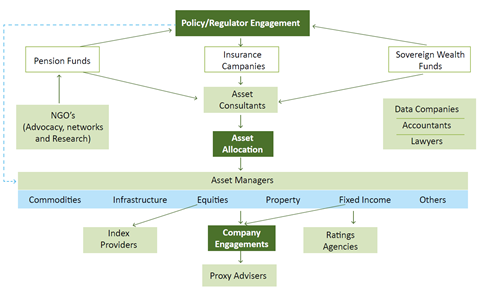 Download the technical paper
Ensuring Paris Agreement alignment: investment managers and service providers

September 2018
Ensuring Paris Agreement Alignment
1

2

Currently reading

Investment managers and service providers