A cornerstone of moving the climate dial from awareness to impact is ensuring that governance mechanisms support the ambitions of the Paris Agreement and do nothing to create barriers towards those ambitions.
Good governance underpins all of the PRI Principles and its mission towards a sustainable long-term financial system. However, governance has particular relevance in addressing the challenges and barriers of achieving investor portfolio outcomes that are aligned to the Paris Agreement.
"Governance is the primary tool to align interests between CalPERS and managers of its capital, including investee companies and external managers"

CalPERS Investment Belief
Alignment to the Paris Agreement is defined here as investments that will perform optimally under any scenario that is "well below" the 2 degree threshold, so any of the 1.5 degree or 1.75 degree scenarios would qualify. This paper considers the key governance issues for the main types of institutional investors, except for banks.
The paper concentrates on the trustees and board level governance of investors, though it considers their influence on other roles in their organisations.
Paris Agreement aligned (PAA) investor governance demands the creation or amendment to existing structures, policies and practices that best maximises long term returns through the transition of their portfolio. Paris Agreement aligned governance will ensure mitigation against transition and physical risks for individual leading funds and help drive the collaborative leadership impact that represents the best chance to avoid permanent negative returns in plus 2-degree world. Governance reinforces all further efforts to drive Paris Agreement Alignment.[1]
For sophisticated investors such as asset owners, particularly pension funds, governance drives the creation of their policies and it is these policies that then drive the shape of the investment processes and then portfolio structure and investments. For other types of asset owners such as insurance companies there may be a board structure and a more hierarchical management structure with various levels of devolved responsibility and decision making over investment processes and decisions. For sovereign wealth funds, a range of governance structures can be found from a traditional board to committees reaching up into government approval structures. The differences between asset owner types are discussed further in the paper.
Whatever the fund governance structures, whether for pension funds, insurance companies or sovereign wealth funds, the unique attributes of climate related risks mean that new decisions on skills and capacity, risk management, investment strategies, incentives, investment processes and communications strategies need to be made.
Whilst governance is sometimes considered as a softer issue within investment, this is certainly not the case in achieving Paris Agreement Alignment as there are important governance underpinnings of all the key Paris Agreement Alignment financial decisions. Governance is one of the four main pillars of the FSB's Task Force on Climate-related Financial Disclosure (TCFD) recommendations.[2]
The TCFD outlined the overarching role that governance plays in addressing climate change: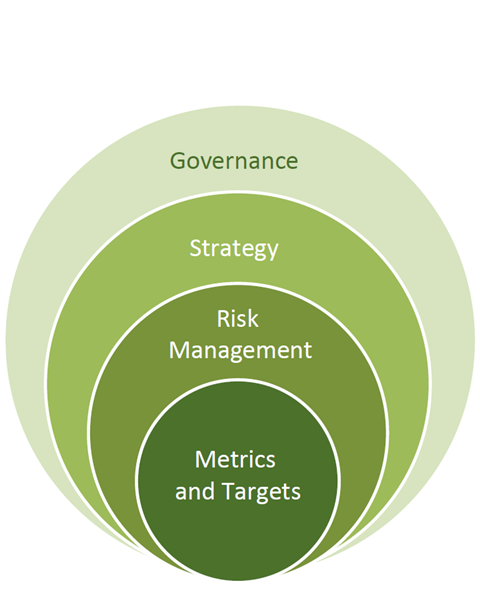 Governance
The organization's governance around climate-related risks and opportunities
Strategy
The actual and potential impacts of climate-related risks and opportunities on the organization's businesses, strategy, and financial planning
Risk management
The processes used by the organization to identify, assess, and manage climate-related risks
Metrics and targets
The metrics and targets used to assess and manage relevant climate-related risks and opportunities
Ensuring Paris Agreement Alignment
1

Currently reading

Asset owner governance

2