The PRI recognises that climate change is the highest-priority environmental, social and governance (ESG) issue facing signatories today. 
We also appreciate the considerable uncertainties that need to be pro-actively managed in the transition to a low-carbon economy, and the crucial role that policy-makers, companies, investors and civil society play in taking the urgent steps that are needed. The PRI is aware that the longer the delay in climate policy action, the more forceful and urgent the policy will inevitably need to be. It is for this reason that the PRI is supporting the development of a body of work on an inevitable, rapid and forceful climate policy response, to help institutional investors take action and implement processes to build resilience across investment portfolios, now and into the future.
Key messages
Paris agreement
One of the key pillars for achieving resilience in portfolios, and across the financial system more broadly, will be the attainment of the goals of the Paris Agreement. In particular, the agreed goal of "holding the increase in the global average temperature to well below 2°C above pre-industrial levels and to pursue efforts to limit the temperature increase to 1.5°C above pre-industrial levels".
Policy ambition gap
The PRI is aware, and very concerned, that there is an ambition gap to the Paris Agreement goal, based on the current policy trajectory. Even the full implementation of current Nationally Determined Contributions (NDCs), which fall short of the Paris Agreement goal, would lead to an unacceptably high temperature increase, with estimates varying from 2.6 to 3.4°C relative to pre-industrial levels. This is of great concern and poses significant risks to investors and service providers, as global warming at that scale would have large and detrimental impacts on global economies, society and investment portfolios.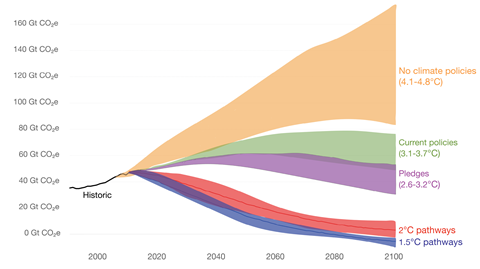 Private sector action gap
Corporations and institutional investors have a leading role to play in supporting the realisation of the Paris Agreement goals through their business operations, strategies, investments and capital allocation decisions. Indeed, while we have seen some positive movement and actions across the private sector, it is clear that transition plans need to accelerate in order to evolve capital allocation away from high, towards low-carbon activities with the urgency that is needed to align with the goals of the Paris Agreement. While there are some examples of such practices emerging, it is concerning that many corporations and investors still implicitly and explicitly base their long-term decisions on assumptions that warming of 2°C or more will be safe or acceptable to society and wider stakeholders. Since Mark Carney, Governor of the Bank of England recently warned of a "climate Minsky moment", it is vital that businesses and investors are aware of the risks that they face in regard to climate change, disclose these risks and, importantly, manage them accordingly. It is against this backdrop that the PRI is examining the implications of a sustained delay in emissions reductions relative to the Paris Agreement.
Inevitable policy response
The PRI engaged Energy Transition Advisors and Vivid Economics and, with the support of the ClimateWorks Foundation, commenced a scoping of the investment implications of a rapid and forceful policy response to close the gap to the Paris Agreement – what is referred to herein as an Inevitable Policy Response (IPR). In effect, an IPR is what would need to happen if the world was to move towards a target of 1.5-1.75°C with 50–66% probability. Indeed, if policy actions do not ratchet up from current levels, we would need urgent and forceful policy action today to achieve anything close to attaining a 1.5°C outcome. IPR can thus be considered a "backstop" scenario – and a call to action – to accelerate current efforts to align with the Paris Agreement. An IPR trajectory is not being actively considered by most corporations and investors, hence the PRI's support for assessing its effects and the preparatory actions that are needed. There are many permutations for an IPR in terms of when and what will occur. This outline contains assumptions about an announcement in 2025 for a 2030 implementation to address the overshoot, and specific policies that could be considered.
Intended research
Through a series of thought leadership papers, a body of work has been developed as part of an intended research programme on an IPR. It sets up a framework within which to explore the potential financial implications of governments ratcheting up their climate policy actions significantly in response to a collection of political, social, climatic and economic pressures. The companion technical papers to this overview set out important considerations for future work: Why a forceful climate policy response is inevitable; When, what and how it would unfold; the implications for Strategic asset allocation and portfolio construction; and what Investor actions are needed to adequately prepare. This work programme would help investors prepare for and, as far as possible, minimise the damaging investment implications and capture the opportunities that arise due to a disruptive low-carbon transition.
Building an IPR framework
At its simplest level, an IPR would precipitate (in aggregate) substantial shifts in capital from high- to low-carbon activities that require preparatory actions for investors to take today. The technical papers build a framework for exploring the policy and technology pathways that would deliver a rapid economic transition. They also consider the investment risk and return implications at the sector and asset level to integrate an IPR into strategic asset allocation (SAA) and portfolio construction frameworks. Finally, the papers consider the actions that investors would need to take both prior to, during and in the aftermath of an IPR, in terms of reviewing governance arrangements, risk management processes and engagement activities, including the management of stranded assets.
Unanticipated shift
Not all investors today fully recognise the likelihood and impact of an IPR outcome. Instead, most investors (and companies) are anchored around concrete policy commitments, as reflected in the NDCs, leading to inadequate pricing of climate policy risks as a reflection of the incomplete action to date. However, an IPR would involve a step change in both the level and coverage of climate policy action, with a period of subsequent market repricing exposing investors to significant volatility and potential losses. Therefore, a better understanding of how the low-carbon transition would impact financial markets is essential.
Announcement effect
The 'announcement effect' of the implementation of stricter climate policies in the future, as envisaged in the Paris Agreement, would immediately change how investors value assets and create a period of uncertainty and high volatility until investors are able to gauge the full impact of such announced, and then implemented, policies. The most pro-active investors will determine the pricing, particularly in this early phase. The potential investment impacts explored in the technical papers are presented across three phases of an IPR (see below), including the pre-announcement period (Phase I), the post-announcement/high volatility period (Phase II), and the implementation/stability phase (Phase III).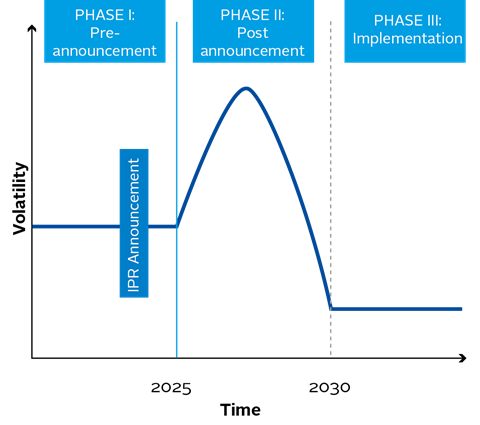 Forward looking
Forward-looking analysis and strategic planning are of vital importance for institutional investors to adequately manage climate-related impacts due to a lack of historical evidence and uncertainty in future climate policy and technology developments. This suggests a need for detailed analysis of likely future scenarios and their implications for investment portfolios, including an IPR outcome. The technical papers further explore IPR as part of adopting such a forward-looking approach.
Investor actions
It is vital that institutional investors have the appropriate governance arrangements and risk management processes in place to adequately prepare for, and respond to, an IPR. The technical papers explore these issues further, including the preparatory actions that investors would need to take in terms of SAA decisions and portfolio construction, managing stranded assets and steps needed to engage with policy-makers, companies and service providers.
Investor-relevant scenarios
Although a policy response is treated as inevitable, the when and what are, in effect, scenarios. Building climate scenarios of investor relevance involves a greater level of detail than the low-carbon scenarios reported in the literature, such as the International Energy Agency's Energy Transition Policy scenarios. While they are useful starting points, these scenarios are primarily aimed at informing policy, rather than corporate or investment, decisions. They present future worlds of rational policy choices, undertaken in an orderly fashion, and with considerable foresight, rather than more realistic choices made under uncertainty and with significant political influence. Similarly, these scenarios focus on the general macroeconomic impacts of a low-carbon future, with a focus on overall climate policy ambition. These omit other policy and technology uncertainties that affect investor returns, and may therefore understate risk. This is why the IPR work will include more tailored scenarios that build on IEA work
Efficient decision-making and leadership
The work begins to explore some of the steps that PRI signatories could take to prepare for a rapid and uncertain transition to manage its effects over the three IPR phases – in an efficient way – in terms of achieving both positive climate change impacts and financial returns. The technical papers explore this through the utilisation of different modelling techniques (economic system and value stream approaches), frameworks to support SAA decisions and portfolio construction (including the use of scenario analysis), reviewing governance structures and processes, as well as risk management responses (including the management of stranded assets). The work also considers the strong and clear role that asset owners play in demonstrating leadership to support and enable rapid transition.
New analytical approach
The intended work programme will explore and present both top-down and bottom-up analyses when considering the investment implications of an IPR, recognising that the asset- and sector-level impacts will be key to interpreting how institutional investors need to amend existing investment processes. Indeed, the intention is not to produce a black box 'result' for investors to adopt, but rather to open up the models and assumptions that drive the outputs, such that investors can incorporate these into their own internal modelling and/or governance frameworks. As the technical papers posit, this process is likely to be as much about qualitative considerations and conversations within investment teams, as part of reviewing existing processes, as it will be about the quantitative analysis itself.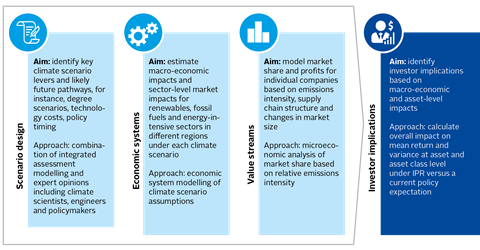 Asset allocation implications
The work identifies specific pre-emptive actions that institutional investors can take now (in Phase I) to prepare for, and minimise, the potential damaging impact of an IPR (Phase II). These include reviewing the SAA targets and ranges to provide more flexibility ahead of periods of high volatility, reviewing allocations to sub-asset classes, including regional exposure, sectors, and the creation of a new low-carbon allocation. The implications for portfolio construction are also considered, including the need to review mandate design, manager selection and review processes to ensure that low-carbon transition risks and opportunities are part of the incentive structure and performance review process (for active mandates), and part of the index construction (for passive mandates).
Summing up
It is evident that the longer the delay in reducing emissions, the higher will be the need for rapid transition and forceful policy action. The PRI intends to extend the work outlined in this paper to bring the thinking into all relevant PRI tools and activities. The PRI's aim is to add weight to, and build upon, our existing suite of investor tools and guidance to encourage and support investors in taking further action on climate change today. We believe this work bolsters the rationale for an escalation in actions now to refine and make decisions more efficiently, and to ultimately improve the resilience of investment portfolios and decision-making processes to what could soon be a more volatile environment.
The remainder of this paper provides an overview of the key insights and future work across each of the four technical papers prepared by Energy Transition Advisors and Vivid Economics. They describe the rationale and implications of an IPR as follows:
Downloads
PDF, Size 8.68 mb

PDF, Size 11.66 mb
The inevitable policy response to climate change
1

Currently reading

Act now

2

3

4

5