Case study by IFM Investors
| Contributor | Chris Newton, Executive Director, Responsible Investment, and Nick Zannis, Associate Director, Debt Investments, Asia, IFM Investors (IFM) |
| --- | --- |
| Market participant type | Asset manager |
| Total AUM | US$78 billion (as of 30/04/2018) |
| Fixed income AUM | US$22 billion (as of 30/04/2018) |
| Operating country: | Global |
| Case study focus: | Example of how E factors affect credit risk assessment |
Background to the investment case
AGL Energy (AGL) is an Australian integrated energy company. AGL is listed on the ASX (Code: AGL) and is an S&P/ASX 50 company by market capitalisation. The company operates retail and merchant energy businesses, power generation assets and an upstream gas portfolio. At the time of writing, it is rated by Moody's Investors Service as Baa2/stable24.
IFM Investors has invested in AGL directly, in assets now owned by AGL Energy and in assets where AGL was the key off-taker which underpinned our counterparty risk to the borrower. This has allowed IFM to access senior management and provide IFM with a good understanding of the ongoing business strategy.
EG factor which drove the investment decision
IFM's investment team incorporated a number of ESG considerations in their due diligence and credit assessment process. The credit assessment analysed the portfolio impact in terms of concentration and diversification, and also included ESG issues and their impact.
Financial analysis conducted on the AGL business included:
review of profit and loss, balance sheet and credit metrics;
stress test and review of financial covenants;
analysis of and refinancing risk considered for capital structure and debt maturity; and
peer analysis.
Initial analysis highlighted risks associated with climate change due to AGL's significant exposure to coal. As a result of the potential material financial impact of these environment-related risks, the IFM investment team further investigated. Further investigation and analysis of identified climate change risks involved a variety of external sources including Regnan/MSCI, equity research reports and general market information, in addition to meetings with AGL management.
As one of Australia's largest greenhouse gas-emitting businesses, it was clear that AGL recognises the role it plays in Australia's clean energy future. As such, company strategy focuses on reducing greenhouse gas emissions, while providing secure and affordable energy to customers.
AGL's specific strategies to progressively increase the volume of energy generated from renewable sources, while gradually retiring coal-fired thermal generation plants, had a positive impact on the investment team's credit assessment of the company.
Comprehensive analysis helped the investment team determine that AGL's strategy to reduce and/or mitigate climate change risks on the business was sufficient to mitigate financial implications over the long term.
Market implications
AGL has maintained a steady credit profile over the last five years. Each investment is assessed by IFM Investors on the credit profile, relative value and the risk-adjusted returns for each of their portfolios. The chart below shows one of the key credit metrics that we analyse: funds from operations to net debt ratio (see figure below). This measures the ability of a company to pay off its debt using operating income. The higher the ratio, the stronger the position the company is in to pay off its debt. AGL seeks to maintain comfortable headroom for its current credit rating while also looking to maintain a diversified and staggered debt maturity profile, and maintain sufficient undrawn debt facility to cover its liquidity needs. As a result, IFM was comfortable to support AGL and proceed with an investment.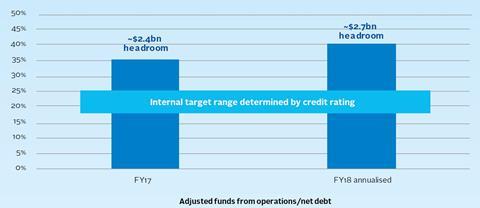 Key takeaways
A good corporate strategy can mitigate significant risk: a comprehensive due diligence approach to incorporating ESG considerations into credit analysis highlighted AGL's solid corporate strategy to mitigate the financial impact of climate change on AGL's business model over the long term.
Download the full report
Shifting perceptions: ESG, credit risk and ratings – part 2: exploring the disconnects

June 2018
ESG, credit risk and ratings: part 2 - exploring the disconnects
1

2

3

4

5

6

7

8

9

10

11

12

13

14

Currently reading

Case study: AGL Energy

15

16

17

18