Case study by DDJ Capital Management
| Contributor | Roman Rjanikov, Director of Research and Assistant Portfolio Manager, DDJ Capital Management, LLC (DDJ) |
| --- | --- |
| Market participant type | Asset manager |
| Total AUM | US$7.63 billion (as of 30/4/2018) |
| Fixed income AUM | US$7.63 billion (as of 30/4/2018) |
| Operating country: | US |
| Case study focus: | Example of how G and S factors affect credit risk assessments in the high-yield market. |
Background to the investment case
The company is a provider of kidney dialysis services for patients suffering from end-stage renal disease (ESRD), commonly known as kidney failure. Patients with ESRD need dialysis to artificially remove toxins, fluids and salts from their blood stream, as their kidneys can no longer perform this function. The company provides dialysis services in the US through a nation-wide network of outpatient centres.
ESG factor which drove the investment decision
In recent years, the company has on several occasions engaged in relatively aggressive (and, in some cases, arguably illegal or unethical) practices to boost reimbursement (and profit) from insurers and the US government. In its investment assessment, DDJ concluded that these practices constitute meaningful social and governance risks to investors in the company. Below are a few examples:
In May 2015, the company agreed to pay $495 million to settle a whistleblower lawsuit initiated in 2011 by former employees that accused the company of deliberately wasting medicines to receive higher Medicare payments. The lawsuit alleged that the company illegally used larger-than-necessary medicine vials or unnecessarily spread medicine dosages across multiple treatments, knowing that Medicare would pay for what it considered "unavoidable" waste.
In late 2016, the company was reportedly "steering" ESRD patients into Affordable Care Act exchange plans, resulting in higher reimbursement paid to the company, though occasionally at a higher out-of-pocket cost to patients. Subsequent to these allegations, the Centers for Medicare and Medicaid Services (CMS) required dialysis providers, including the company, to respond to a request for information related to patient steering. CMS has said that it is considering changes to address this practice, including imposing financial penalties on individuals and facilities for failing to provide correct coverage information to patients.
Finally, the company has historically made significant voluntary contributions to the American Kidney Fund (AKF), which is common within the dialysis service provider industry. The AKF is a not-for-profit organisation primarily engaged in charitable assistance by helping dialysis patients pay for commercial insurance premiums. Commercial insurance reimburses dialysis operators at significantly higher rates than government payors. Though charitable premium assistance by dialysis service providers is technically legal according to an advisory opinion issued by the Department of Health and Human Services in 1997, the practice has more recently fallen under increased public scrutiny and is now perceived by some as "fraud gaming abuse" by dialysis operators.
The company has issued high-yield bonds. The major credit agencies identified the Medicare overbilling incident (which cost the company $495 million in the related settlement) in their rating reports, but they deemed that the financial impact was not large enough to warrant a negative change in the rating at that time. Additionally, the ratings reports have been generally silent on other ESG-related matters or mention them only tangentially.
As it pertains to ESG factors specifically, the third-party ESG ratings vendor used by DDJ acknowledged the company's "repeated allegations of questionable billing practices," but still rated the company BBB, which is above the median rating within a peer group of the 10 largest healthcare providers. Based on its own fundamental research and due diligence of the company, DDJ believes that this ESG rating is too favourable in light of the social and governance risks highlighted above.
Market implications
For reference only, the chart below shows the relevant bond's spread over the period in question (see Figure 36). As with any other credit, the spread was affected by a range of factors, not to mention overall market conditions. As such, the spread change observations may not be statistically significant to draw any direct link to the ESG issues identified in this paper. That said, DDJ highlights a short-lived spike in spread around October 2016, which is when the allegations that the company had steered patients into ACA Exchange plans was first made public.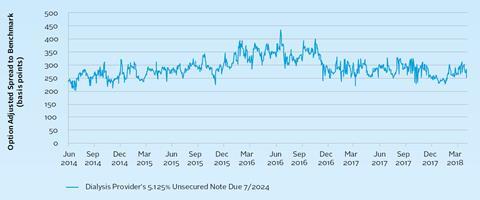 Key takeaways
DDJ believes that its fundamental analysis of the company provides a useful example of how rigorous bottom-up credit research can identify ESG risk factors that are perhaps not properly appreciated by third-party ESG score providers, credit rating agencies or by the rest of the market. In this instance, based on DDJ's due diligence, persistent social and governance concerns have contributed to DDJ's decision to avoid investing its clients' portfolios in the company's debt. However, should the company's debt trade to attractive levels in the future, DDJ will revisit its credit analysis to determine whether the social and governance concerns have been mitigated or the bonds have traded to levels where DDJ believes that its clients will be appropriately compensated for assuming such ESG-related risks.
Download the full report
Shifting perceptions: ESG, credit risk and ratings – part 2: exploring the disconnects

June 2018
ESG, credit risk and ratings: part 2 - exploring the disconnects
1

2

3

4

5

6

7

8

9

10

11

12

13

Currently reading

Case study: dialysis service provider

14

15

16

17

18