Sonnedix is a group of companies that develops, builds, owns and operates solar power plants globally.
It is owned by institutional investors advised by J.P. Morgan Asset Management (JPMAM) within an infrastructure strategy. As part of its overall efforts to better understand, mitigate and manage ESG-associated risks and opportunities, JPMAM actively encouraged Sonnedix to make ESG issues a priority by requesting that they formalise their practices through the implementation of ESG management systems aligned to accepted international standards.
As a solar power producer, PV modules are arguably the most critical component of Sonnedix's business. Sonnedix was asked by JPMAM to evaluate how, and to what degree, conflict minerals (specifically, tantalum, tin, gold, and tungsten) are present in Sonnedix's supply chain and how this should be considered and addressed in its business. Responsible mineral sourcing can help avoid both human rights abuses as well as the contribution to conflict fuelled by the extraction and trade of minerals.
As a first step, Sonnedix analysed conflict mineral use through publicly available independent third-party PV module manufacturer scorecards. These scorecards determine the degree to which module manufacturers have done due diligence and can confirm with reasonable certainty that they do not use conflict minerals per the due diligence guidance outlined by the OECD, and produce supporting documentation.
Recognising the limitations facing a small company with an ESG team of two, Sonnedix used these third-party scorecards, rather than independent supplier-by-supplier audits, as it allowed them to incorporate conflict minerals management into their larger ESG programme without unnecessarily draining the team's time or budget.
Sonnedix is currently finalising how best to incorporate scorecard results into their business decisions. Both Sonnedix and JPMAM are aware that any such decision will need to balance the value of these score card results against other business concerns (such as costs, performance and availability of the modules), as well as, take into account potential impacts on Sonnedix's procurement processes, acquisition criteria, and other business lines.
JPMAM's push to consider the impact of conflict minerals, together with Sonnedix's realistic approach to analysis and resource management, resulted in a more developed ESG approach to addressing the potential risks, with a broader scope than would be expected for an organisation of its size. This process has driven thoughtful discussion between Sonnedix and JPMAM regarding integrating ESG into the business's larger strategy.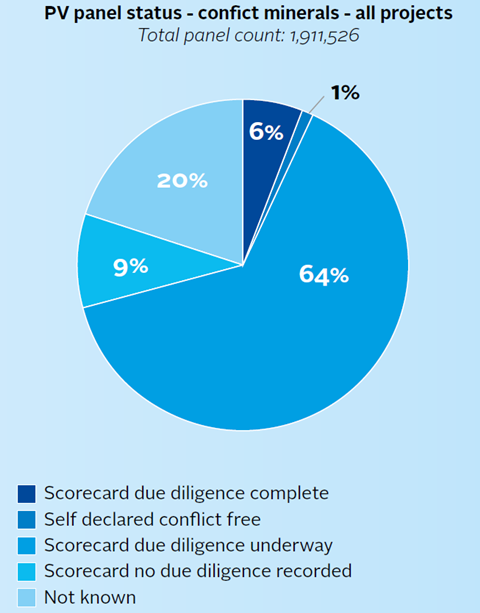 Managing ESG risk in the supply chains of private companies and assets
1

2

3

4

5

6

7

Currently reading

Case study: conflict minerals and solar power

8

9

10

11

12

13