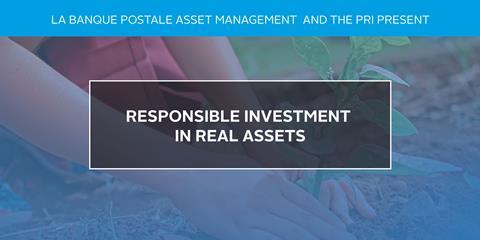 Date: Monday, 09 September 2019
Time: 12.15pm – 7pm CET
Location: Auditorium Paris Marceau, 12 Avenue Marceau, Paris
Hosted by: La Banque Postale Asset Management
Fee: Complimentary
Who is eligible to attend? All
The PRI is organising a half-day event dedicated to responsible investment in real assets. This is the first time the PRI has organised such an event and it reflects the trend of increased allocation to these asset classes and a recognition of the vital role they will play in fighting climate change and achieving the Sustainable Development Goals.
The event will bring together leading asset owners, investment managers and other actors with a stake in the industry to discuss the most pressing ESG issues through a mixture of panel discussions, roundtables, workshops and presentations.
A light lunch will be provided at the beginning of the event and it will close with a networking cocktail reception.

For more information contact Simon Whistler or Jake Goodman.
Draft agenda
12.15

Registration opens

13.00

Welcome introduction (LBPAM)

13.05

Presentation: ESG trends in real assets

A joint presentation by the PRI and GRESB on the trends from their latest reporting results.

13.25

Panel: A scenario where everyone uses different scenarios

Measuring how your portfolio compares to a Paris-compliant trajectory
Practical steps you can take to get your assets on the right course
Achieving alignment between asset owners and managers

14.25

Panel: Staying ahead of the impact curve

In a world where everyone is talking about impact, what does it take to be a leader?
What tools and guidance are available to support real assets investors?
Aligning impact with the SDGs – examples of how the SDGs can provide a framework for articulating impact.

15.15

Coffee break

15.40

Briefing: The EU taxonomy

A technical overview of the categories in the EU taxonomy which relate to real assets:

Agriculture and forestry
Buildings
Electricity, gas, steam and air conditioning supply
Transport
Water, sewerage, waste and remediation

16.10

Case study: Re-thinking the social license – a step-by-step approach

How is the concept of gaining and retaining a social license to operate evolving?
How can different stakeholders – from investors to policy-makers to local community groups – work together to bring this concept into investment strategies and processes?
What practical steps need to be taken to deliver sustainable and inclusive real assets investments?

17.00

Panel: Asset owners and ESG – what expectations do they have of investment managers?

How are emerging trends in ESG shaping asset owner expectations of investment managers in respect of ESG policies and performance?
Is the due diligence process fit for purpose?
What are the most effective ways of establishing and reporting on ESG KPIs?

17.45

Closing summary and wrap-up

18.00

Cocktail reception
The PRI would like to thank La Banque Postale Asset Management for hosting this event.