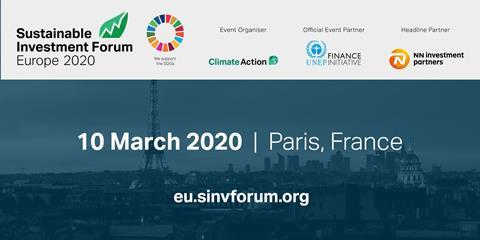 Date: Tuesday, 10th March 2020
Location: Le Méridien Etoile, Paris, France
In partnership with the UNEP‐FI, the 3rd Sustainable Investment Forum Europe 2020 will convene more than 300 asset owners, asset managers, service providers and policy‐makers to discuss how investors are aligning with global climate and sustainability targets.
Don't miss this opportunity to hear how investors are incorporating sustainability and ESG into their investment strategies and how initiatives like the SDGs and the European sustainable finance action plan are driving the move towards a low‐carbon and sustainable economy.
Financial markets are global, and so are the challenges to deliver on the SDGs. It is therefore time to align these various initiatives to develop compatible markets for ESG and green financial assets across borders. A coordinated international approach on sustainable finance is a precondition for unlocking the considerable potential of sustainable finance and raise the importance of ESG investing worldwide.
Please click below to view the agenda, full speaker line‐up and to register your place.
As a partner, we are happy to offer our signatories a 25% discount to attend the event. Use the code PRI25 at the checkout to take advantage of this special rate.
Key topics:
Challenges and opportunities for passive and active managers in sustainable investment
Overcoming the data challenge?
What are the practical challenges of launching sustainable funds in Europe?
Regional Focus: the latest developments in green finance in Egypt
Using strategic asset allocation to achieve a 1.5 aligned portfolio
How can sustainable finance policy help Europe avoid disaster?
Practical solutions: Climate change matters
Speakers Include:
Eric Usher, Head, UNEP Finance Initiative
Johanna Raynal, Director of ESG & Impact, SwedFund
Magnus Billing, CEO, Alecta
Dr Mohammed Omran, Executive Chairman, Financial Regulatory Authority
Stephen Nolan, CEO, Sustainable Nation
Mirza Baig, Global Head of Corporate Governance, Aviva
Contact Alfie Hill‐Kitcherside from Climate Action for group rates and further discounts on +44 (0) 207 871 0173 or email at ahkitcherside@climateaction.org.
Venue
Le Méridien Etoile, Paris, France