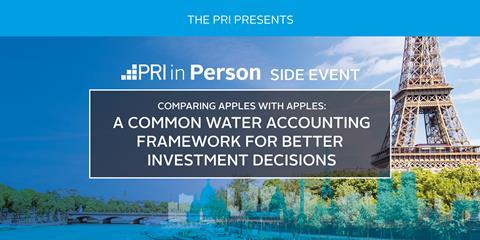 Date: Wednesday, 11 September 2019
Time: 13:00 - 14:10
Location: Palais des congrès, TBC


The PRI is convening this session with the UN Global Compact CEO Water Mandate and World Resources Institute (WRI) to give institutional investors an opportunity to provide feedback and shape the scope of an initiative to develop a simple common water accounting framework which can be applied by all water users, in all water contexts – including business, water utilities, cities and communities.
There remains no simple, consistent method for all stakeholders to communicate their water needs and practices, leading to misunderstanding and misalignment. Simple and consistent water accounts are also fundamental to many broader initiatives focused on managing water risks and demonstrating water investment returns – e.g. climate scenario modelling, corporate disclosure and TCFD and measuring progress towards the SDGs.
This session is an opportunity for the investor community to provide feedback and shape the scope of this initiative in its formative stages.
A light lunch will be provided at the beginning of the event.

For more information contact Gemma James.
Draft Agenda
| | |
| --- | --- |
| 13:00 | Lunch |
| 13:10 | Welcome and introductions – PRI |
| 13:15 | Why is a Common Water Accounting Framework needed? - UN Global Compact CEO Water Mandate |
| 13:35 | Q&A session with the audience |
| 14:00 | How to stay informed – UN Global Compact CEO Water Mandate |
Venue
Palais des congrès, TBC