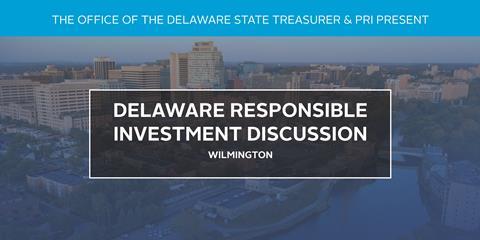 Date: Tuesday, 24 March 2020
Time: 1:30pm – 05:00pm (Followed by networking drinks)
Location: 600 North King Street, Wilmington, Delaware

This event will bring together investment leaders from the Mid-Atlantic United States to discuss opportunities and barriers to expanding the reach of responsible investment. Participants will have the opportunity to hear attendees' views on incorporating ESG into various aspects of the financial industry. They will also learn about program participants including the UN-supported Principles for Responsible Investment and SASB (Sustainable Accounting Standards Board). The workshop component of the event will allow participants to engage with other attendees and speakers to share their views and learn from one another.
To register your interest in this event, please click below.
Agenda*
1:30
Registration
2:00
Welcome Remarks

Adam Gordon, Engagement Director, UN Global Compact
Margaret Niles, Partner, K&L Gates
2:05
Keynote Addresses:

Colleen Davis, Treasurer, State of Delaware
2:30
Presentation: Principles for Responsible Investment

Chris Fowle, Director of the Americas, PRI
2:50
Presentation: Material ESG Risks
by Sustainable Accounting Standards Board (SASB)
3:10
Panel on ESG Integration

Mark Hays, Director of Sustainable & Impact Investing, Glenmede
Sue Perez, Deputy Treasurer, Commonwealth of Massachusetts
Kristen Sullivan, Partner, Audit & Assurance, Deloitte
Timothy A. Wilkins, Global Partner for Client Sustainability, Freshfields Bruckhaus Deringer US
Moderated by: Erin Arvedlund, Business and Personal Finance Reporter, Philadelphia Inquirer
4:00
Workshop Discussion
Workshop style discussion within table groups, where participants will discuss their histories with ESG, challenges faces, and respond to other provided questions from a facilitator.
4:50
Closing Remarks
5:00
Networking Reception
*Agenda subject to change.
Venue
600 North King Street, Wilmington, Delaware