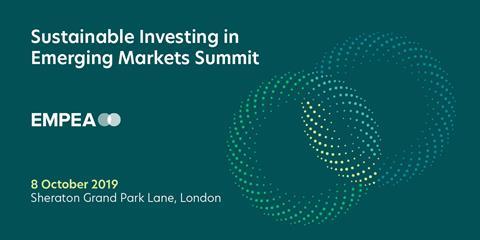 Date: Tuesday 8 October 2019
Location: Sheraton Grand Park Lane, London
The PRI is the proud Institutional Partner to the fourth annual Sustainable Investing in Emerging Markets Summit, hosted by EMPEA (Emerging Markets Private Equity Association).
Last year, the Summit explored the enormous commercial opportunity presented by the UN Sustainable Development Goals—a chance to build leading businesses and assets in emerging and transitioning economies that create impact by directly tackling contemporary development challenges such as climate change, financial inclusion, and access to health care. This year, EMPEA will continue this thread, delving deeper into practical challenges and opportunities for impact at the sector and portfolio company level. Delegates will learn from their peers and other leading industry stakeholders which sectors, regions, and business models have the greatest potential to generate both the highest impact and stellar market-validated returns. In contrast, experts will review which areas still require the market-building efforts of philanthropic or other sub-commercial investors, as well as lessons learned from blended finance and similar models that have worked to crowd capital into new markets.
Agenda topics include:
Navigating Impact Measurement – how can a higher-risk investment approach unlock markets to advance development impact?
Harnessing the Digital Revolution and Financial Innovation to Sustainable Impact
LP panel: How To Assess GPs and Your Own Contribution to the SDGs?
The PRI is pleased to collaborate on the EMPEA Sustainability Operational Excellence Challenge, which will be presented by Natasha Buckley (Senior Manager of the PRI private equity programme) as one of the jurors for the awards. The top three finalists will present stories of private equity deals that produced an outstanding sustainable impact from an operational, environmental, social and governance perspective. Audiences members will vote for the most outstanding and impactful deal.
More information and to register
Please note that qualified institutional investors are eligible for complimentary attendance.
Venue
Sheraton Grand Park Lane, London