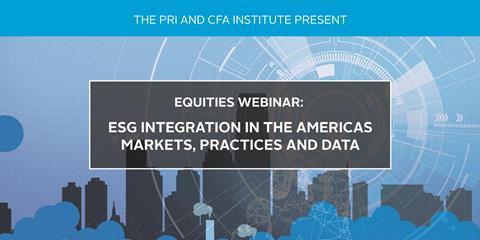 Date: Tuesday, 26 March
Time: 5pm-6pm GMT / 1pm-2pm ET / 10am-11am PT
In September 2018, CFA Institute and the PRI announced two reports, as the result of a nearly two-year collaboration focused on exploring the current state of ESG integration in all corners of the globe. The reports, ESG Integration in the Americas: markets, practices and data, and Guidance and case studies for ESG Integration: Equities and Fixed Income, will help investors learn from their local peers about how they practice ESG integration across different asset classes through a look at local best practices. They also explore the barriers to ESG integration and the drivers of ESG integration in markets around the world. Reports on Europe, the Middle East and Africa (EMEA) and Asia Pacific (APAC) will be released in spring 2019.
Join CFA Institute, PRI, Santander Asset Management, RBC Global Asset Management and MFS for a webinar on 26 March to explore the state of ESG integration and best practice in the equities market in the Americas.
Speakers include:
Moderator: Matt Orsagh, CFA, Director Capital Markets Policy, CFA Institute
Sofia Bartholdy, Analyst, Investment Practices, PRI
Luzia Hirata, Equity Research, Santander Asset Management
Ben Yeoh, CFA, Senior Portfolio Manager, Global Equities, RBC Global Asset Management
Rob Wilson, Research Analyst, MFS
Hosted by the PRI and CFA Institute: