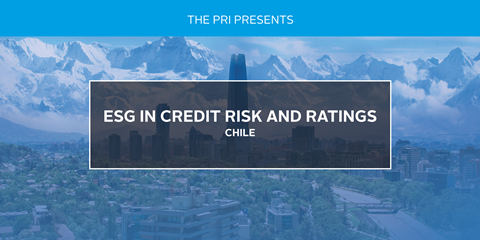 Date: Friday 22 March 2019
Time: 9am – 11am (teas and coffees/ will be served at the start of the event)
Location: Corporación Club El Golf 50, Santiago
The PRI has organised a roundtable session on the 22 of March entitled ESG in Credit Risk and Ratings in Santiago, hosted by Moneda Asset Management.
Participants will discuss the benefits of considering environmental, social and governance factors (ESG) in credit risk analysis as well as the related challenges and barriers. Credit rating agency (CRA) representatives, including from Fitch Ratings, Moody's Investors Service, S&P Global Ratings, will also be attending to answer any questions about how CRAs consider these factors when formulating credit rating opinions. The forum will be held under the Chatham House rule.
The event is open to credit risk analysts and fixed income portfolio managers (responsible investment staff and ESG analysts are welcome if accompanying their colleagues). The forum is part of the PRI ESG in Credit Ratings Initiative, currently supported by more than 150 institutional investors (with nearly US$30trn of assets under management) and 18 CRAs globally.
The aim of the forum is to gather feedback from practitioners, enhance the dialogue between investors and CRAs and contribute to the next phase of this important initiative.
Places are limited and will be allocated on a first-come-first-served basis. Register your interest below:

Thank you to our host Moneda Asset Management for supporting this event.
Venue
Corporación Club El Golf 50, Santiago, Chile