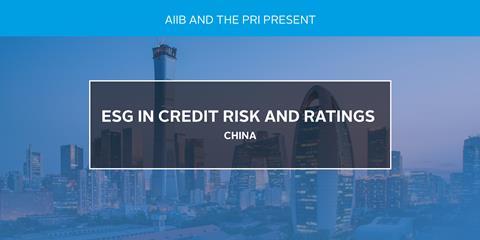 Date: Friday, 31 May 2019
Time: 9.00 am – 12.00 pm
Location: B-9 Financial Street, Xicheng District, Beijing 100033
Participants will discuss the benefits of considering environmental, social and governance factors (ESG) in credit risk analysis as well as the related challenges and barriers. Credit rating agency (CRA) representatives from Fitch Ratings, Moody's Investors Service and S&P Global Ratings will also attend as well as from China Chengxin International Credit Rating, Dagong Global Credit Ratings Group and Golden Credit Rating International. They will illustrate how CRAs consider these factors when formulating credit rating opinions and answer questions. The forum will be hosted by the Asian Infrastructure Investment Bank (AIIB) and will held under the Chatham House rule.
The event is aimed at credit risk analysts and fixed income portfolio managers (responsible investment staff are welcome if accompanying their colleagues). It is part of the PRI ESG in Credit Risk and Ratings Initiative, currently supported by over 150 institutional investors (with nearly US$30trn of assets under management) and 18 CRAs globally.
As places are limited, please register your interest and you will be notified if you have been allocated a place.
For any questions, please contact Nan Luo.
The PRI would like to thank the AIIB for hosting the event.

Venue
Beijng, China (to be confirmed)