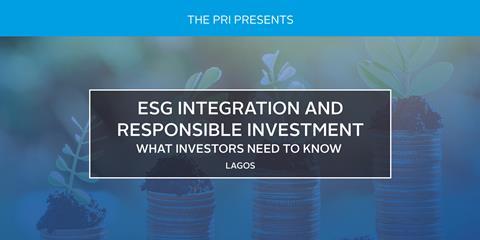 Date: Wednesday, 13 November 2019
Time: 07:30am – 11:00am
Venue: Radisson Blu Hotel, Ozumba Mbadiwe Drive, Victoria Island, Lagos, Nigeria
The session presents an opportunity for Investors to receive an update on the latest international and local developments with respect to critical E, S and G issues. Discussions will explore the impact on investors of the Climate Emergency, the various approaches to Responsible Investment employed by local signatories. In addition, the programme includes a look at the importance and practicality of Active Ownership, and an overview of some of the tools and resources available to investors with respect to ESG integration.
If you have any questions, please contact Nicole.Martens@unpri.org.
Agenda
7:00
Arrival and Registration; Breakfast

8:30
Welcome and Housekeeping; Overview of Proceedings

8:35
Background and Introduction

Nicole Martens, Head of Africa & Middle East, PRI
8:45
Keynote address: Leading in Sustainable Finance – Lagos as a Financial Centre for Sustainability

Bola Adeeko, NSE Executive
09:15
Panel discussion: What Responsible Investment Looks Like in Practice

10:15
Tools and Resources for Responsible Investment

Nicole Martens, Head of Africa & Middle East, PRI

10:35
Q&A / Discussion

Facilitator: Nicole Martens, Head of Africa & Middle East, PRI
10:55
Closing remarks

The PRI would like to thank their signitory partners for this event:


Venue
Radisson Blu Hotel, Ozumba Mbadiwe Drive, Victoria Island, Lagos, Nigeria