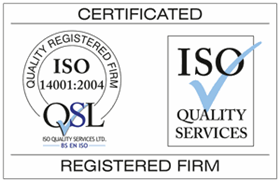 We acknowledge that our annual event, PRI in Person, has the potential to impact the environment and as such we have a duty to proactively manage this. We commit to doing this through identifying significant environmental impacts and putting processes in place to prevent, reduce and/or mitigate them in a practical manner.
We want to ensure we are achieving a measurable level of success in implementing a sustainable event and commit to regularly reviewing our progress.
The PRI is proud to have achieved certification to the ISO 14001:2004 Environmental Management As part of PRI's ongoing commitment to improve PRI in Person's sustainability performance, we offset the carbon emissions related to the conference by investing in a climate protection project.
This year we have offset 2,272 tonnes of carbon emissions, thanks to our carbon offsetting partner, Allianz GlobalInvestors. Please click here to view the certificate. Furthermore, using PRI and Robeco Refill water fountains at the conference allowed us to serve 352 litres of water, saving 1067 plastic bottles from use, and landfill!
Venue
Sustainable events management accreditation ISO 20121 across all Viparis sites
BREEAM In-Use Certification: Excellent rating of the environmental assessment of the Palais des Congres building operational performance
An on-site waste sorting centre, with an average waste recovery rate of 35%
Transition to energy-efficient LED lightening
Washroom taps fitted with aerators and infrared sensors
Selective sorting bins installed at set points in conference and exhibition zones
Ongoing commitment to the CSR initiative "Better Events – Viparis 2030"
Conference
PRI in Person 2019 was again a 'paper-free' conference. As such there was no paper delegate pack and exhibitors were discouraged from providing paper handouts
We offset through a partnership the emissions for delegates' travel and that of all official venues used
Through our ISO 14001 certification, we have identified and maintain an environmental impacts/aspect register for the event
We used reusable and recyclable banners, carpets and furniture
The lanyards, badge holders, conference pens and bags provided to delegates are sourced from recycled, sustainable materials (e.g. the eco-friendly PET lanyards which are both recycled and recyclable)
Catering
Fully vegetarian catering during lunches and refreshment breaks
Evening events' catering company Kaspia Receptions: ISO 20121 certified:
All produce is organic and sourced locally from Fairtrade suppliers
All waste is collected 3 times a week by a charity who supports people in need
All used oils are collected and recycled
100% of Kaspia Receptions bottles are glass bottles